Windscribe VPN Review – Should You Buy It In 2021?
It seems that being inconspicuous is almost impossible in today's modern technological age. Through your online traffic, third parties like Wi-Fi hotspot owners, Internet service providers, government, or even hackers can get gigabytes of your personal information.
But if you want to have control over your browsing preferences and keep your private data safe, you should consider using a VPN service. Choosing a VPN can be challenging when you don't know what qualities to look for. You are placing your trust in a VPN provider to be more upstanding about privacy and security. Almost everybody shows concern towards their privacy and security. VPNs hide your IP so that the online actions become untraceable. That is the reason why one needs a VPN. There are so many VPNs available. Here in this article, we are going to review the Windscribe VPN.
Let's get it started now!
Is Express VPN Good and Safe to Use?
Windscribe VPN is one of the famous VPNs. People all over the world are purchasing this VPN very much. It is a Canada-based network provider that helps in browsing the web privately. It gives online privacy and anonymity while browsing the internet. It is a very interesting VPN which piles on the features. Windscribe has some generous free plans and is easy to use. It has some great value commercial products.
Windscribe VPN's Pros and Cons
Pros:
Windscribe VPN gives you unlimited simultaneous connections unlimited devices with just one account. This means you're not going to run into any issues with having it on your phone, on your iPad, on your Kindle, on your MacBook Air, all with your account.
Double Hop: your traffic is run through two separate servers each time.
Free option: You can get Windscribe utterly free in the U.S, Canada, U.K, Hong Kong, and more countries.
Cons:
Part of Five Eyes: As Windscribe is based in Ontario, Canada, your data may be shared with other nations in certain situations.
Netflix only works for U.S and U.K: Those outsides of these places should not expect Netflix to work
Slow speeds
Highlights of Windscribe VPN
Data logging
Most VPN companies say that they're not going to log your data, but they keep a few things like your payment information and your user name. Windscribe keeps a little bit more than we'd like. They keep a timestamp of your activity, how many bytes you transferred, and how many parallel connections you've made. The reason for this is that they want to make sure that someone isn't sharing an account among 100 people, but still a little bit more than we'd appreciate.
Windscribe VPN's User-Friendliness
When it comes to the Kill Switch feature, also known as Network Lock Feature, they employ it. So you don't have to worry about your information being exposed. If for any reason, the VPN goes out, all of your web browsing app usage will, of course, be knocked out, and you won't be exposed on a public network.
Split Tunnelling
If you want to reduce your bandwidth by using both public and private networks simultaneously, you can do so with Windscribe VPN, which is always a feature that we love to see with the VPN.
Streaming
When it comes to Netflix access, you can do that as long as you're using one of their U.S. or U.K.
Servers. Outside of that, you're not likely to be able to get on Netflix
Torrenting
Windscribe may not be the worst VPN for torrenting, but it's also not the best. The main issue is the speed. After all, torrenting with a slow VPN can be a real drag. Windscribe's official policy is that they allow torrenting on most servers. There are other good VPNs for torrenting, although Windscribe certainly is not the worst choice.
Windscribe VPN's User-Friendliness
It is a very user-friendly VPN in comparison to others. The desktop apps and browser extensions have a stylish yet minimalist design. It connects to the VPN in a single click from direct interference. It has the best feature called the "Location Feature." It helps the user in automatically connecting to the nearby server.
It has an easy login feature that only asks for a username and password. It also has a firewall feature, which acts as the kill switch feature. The installation process is also rapid and easy. The browser extension feature is also very convenient to use.
Windscribe Server Network
A decent size network provides locations in 110 cities. It is spread across 63 countries. Windscribe claims that it has expanded its network to be in Peru, Panama, and Macedonia. It sites that, unlike other servers, it has no fake servers. Also, they don't generate false I.P. data to appear elsewhere. East Asia is exceptionally well presented, which is uncommon. Certain places like Japan, Singapore, Thailand, and more got the Windscribe VPN server.
Note! The Thailand government policy is hazardous. It passed a cybersecurity bill. Which gave authorities the right to access emails, telephone records, computer data, and even postal mail without court approval. Due to this reason, it is not good to use Windscribe VPN in Thailand.
Compatibility
It supports Windows, Mac, Android, iOS, and Linus. While Chrome, Firefox, and Opera extensions provide more ways to connect.
Windscribe VPN Reliability & Security
Sticking to security and privacy is the most crucial thing in today's life. With the increasing cyber-threats, the concerns are serious now.
It protects your data with strong encryption. This VPN uses AES-256 cipher with SHA512 auth and a 4096-bit RSA key. It has a no-logging policy, and it doesn't store any data. It has a feature of ad-blocking, which blocks unnecessary ads. It also helps in not showing the cookies option.
There is no third-party tracking or analytics used to analyze your account. At the time of registration, it asks for the username and the password. No email address is asked unless you want to share. It has a kill switch system and an Open VPN. When you disconnect from the server, it automatically disconnects the internet connection. The time of connection, amount of data transfer, and IP address are all hidden when the server disconnects.
It says no leaks, no viruses, and provides protection. It protects from WebRTC, Ip, DNS leakage. Although it says that data resets every month, but it is a Canada-based provider, so it is dangerous. It is so because it has that 5-eye surveillance and can track the data anytime.
Windscribe VPN Test results
When you switch to VPN, along with privacy, what matters is the speed. Connecting to VPN is only fruitful when it also gives high speed. When several tests were run for its speed, different places showed different results.
The speed was not the fastest when compared to other VPNs. The speed was comparatively slow. The U.S. speed was 26.22 Mbps; the U.K. speed was 30.28 Mbps, Japan's speed was 9.63 Mbps. These all were the average speed. So, all in all, the speed of Windscribe VPN is not very good compared to others. Although it supports torrenting, with this speed, it is not preferable.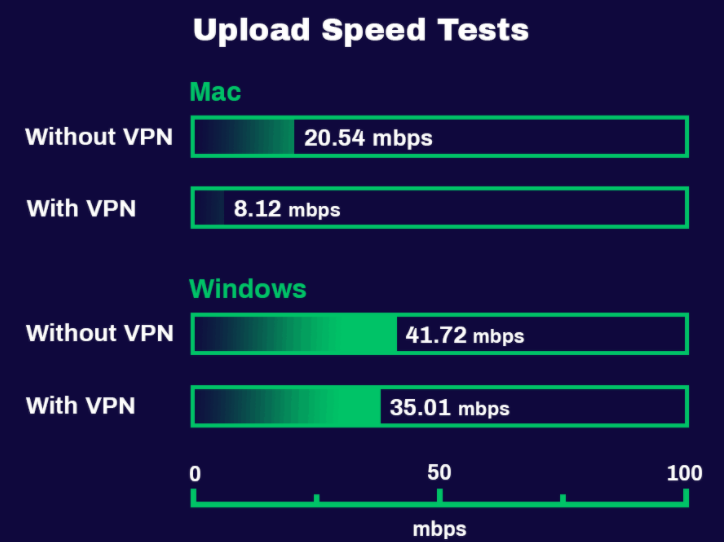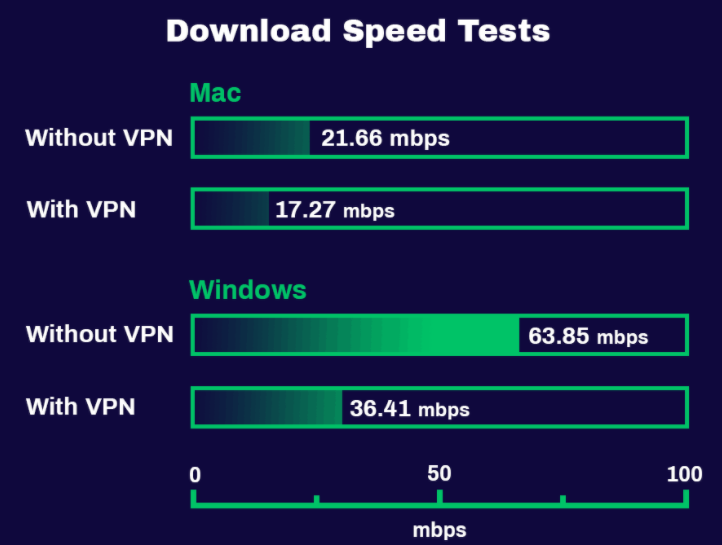 How Much Does Express VPN Cost – Pricing Packages and Discounts
One subscription to Windscribe gets you an unlimited amount of server switches, simultaneous connections, and devices— that's pretty generous, especially considering they offer a free VPN to certain countries! However, when you pay for a subscription, you do get some bonus features— unlimited data, the ability to block ads, trackers, and malware, and to configure your generator how you like. That doesn't seem too bad for $9 a month! Plus, you can get Windscribe utterly free in some countries, which is pretty unusual.
One thing to remember with this pricing model, they only give you three days to try it out. That's their money-back guarantee.
Support and Customer Service
Windscribe VPN presents a broad and descriptive collection of guides, FAQs, etc. Besides, there's a friendly chatbot named Garry that plays the role of a live chat operator. Impressive as he might be, Garry is still just a bot, so he'll direct you with a tolerable answer.
Overall, we believe customer support is an area that Windscribe should improve noticeably.
How to Install Windscribe VPN on Windows or Mac OS
You may install Windscribe VPN to any O.S.: Windows, Mac, Linux (Ubuntu). You may also install it for your browser, mobile phone, T.V., router, NAS, or Torrent client.
As per Windows and Mac OS, the setup guide is almost the same:
Get IKEv2 profile and credentials (requires a pro account)
Click Setting
Find Network & Internet
Click on VPN
Click the Add a VPN connection button to set up a new VPN connection
The developers offer you a detailed setup guide with screenshots and a video guide that might also help while you're setting up.
Windscribe VPN Final verdict
To sum up, this is an excellent VPN in terms of user-friendliness and security to some extent. If you care about privacy and not about speed, you can choose this. Its biggest strengths are the security features, multi-platform compatibility, and ability to be configured on a router to secure an entire household. So, it is the perfect solution for anyone who wants more security and privacy. But at the same time, there are so many cons found too. The performance issues are a serious drawback, as this affects browsing, torrenting, downloads, and even streaming Netflix. For a high-speed VPN with consistent performance. While Windscribe has made some improvements, there are better options to consider.
Windscribe is a cluster of tools put together that help to block web beacons and ad trackers. They are mainly intended towards helping to safeguard the online privacy of the users and restore the access one has to all the online content. Windscribe carries all the features of an ideal VPN, thereby creating a private network in a public connection and providing full anonymity to the user.
Frequently Asked Questions
How many devices does Windscribe VPN support?
It is known that most VPNs do not allow more than five devices to be connected, whether one uses a paid or free service. The interesting thing about Windscribe VPN is that it allows an unlimited number of devices to be connected simultaneously while connecting through a single account.
Is Windscribe VPN good for gaming and Twitch?
Windscribe is one of the best VPN options for gamers. But it is important to note that VPN does not affect the network performance to a great extent. The important thing to have is good internet connection; this enhances the gaming experience. While streaming Twitch using Windscribe, you can enjoy better quality streams with good speeds and extended privacy.
Does it offer enough security?
Windscribe intends to protect users' data with strong encryption. It is very competitive in offering forward secrecy and AES 256-bit protection. Windscribe also comes with a firewall that helps to protect against leaks, including IPv6 and DNS. Windscribe uses the IKEv2 protocol by default and allows the user to exercise their choice in VPN protocol.
How many servers and locations Windscribe VPN offers?
Windscribe has its office based in Ontario, Canada. It has a host of five hundred servers spread over sixty countries. The pro version also has the benefits of unlimited data in over 110 cities, along with the choice of port forwarding.
What is the full company name of Windscribe VPN?
The company was founded in July 2015 to protect the users' online privacy by the name Windscribe.
What if you need more than 10 connections?
Using just one account, multiple devices can be connected to the VPN. This is what makes Windscribe stand apart from the crowd. However, it is important to note that you shouldn't share your login credentials because having an abnormal number of connections will attract some sort of investigation. On the router, a VPN connection helps to protect every connected device using an external connection.
Is it legal and safe to use?
Yes, it is safe and legal to use. It has a host of options for providing robust encryption. The chrome extensions are also provided, which are pretty safe, and it provides software applications of all the platforms.
How's the speed of Windscribe VPN?
VPN speed is the most important feature for hassle-free streaming. Windscribe offers varying speeds on its different servers that depend upon the geographical location of that server. The dedicated Netflix server has great streaming speed but is only available to the Windscribe Pro members.
Truly No-Logs while using Windscribe VPN?
Yes, you can be sure that our session logs, connection logs, and IP timestamps won't be stored while using Windscribe. The only information stored in the last usage of Windscribe and the amount of bandwidth used for the 30-day trial period. This is just to keep a check on the free limitations and prevent any sort of abuse.
Do they accept Bitcoin and other types of privacy-enhancing payments?
Windscribe is known for upping its security a notch higher when payments are made using Bitcoin. Having a VPN network allows you to be safe while dealing with any cryptocurrency. It also allows for additional discounts and bonuses.
Can you unlock different versions of Netflix with Windscribe VPN?
Yes, you can easily unlock different versions of Netflix, but this can be done only in the four countries where the Windscribe Netflix servers are available. They are also known as Windflix servers and are available in the USA, Canada, UK, and Japan.
Which VPN protocols does it support?
VPN protocols supported by Windscribe are:
• IKEv2
• WireGuard
• OpenVPN UDP
• OpenVPN TCP
• Stealth
• Websocket Stealth
How much does it cost and which option should you choose?
There are two versions of Windscribe. The first is the free version that allows up to 10 GB of data for streaming but misses some of the other available tools in the pro version. The pro version is available for 9 dollars per month with an unlimited amount of usage.
How can you get support for your product
With the help of FAQs, Setup guides, Knowledge Base. To have technical assistance, you can raise tickets and take the help from online chat support.
Does it support torrents and P2P file sharing?
Yes, Windscribe completely supports torrent. As a substitute for the kill switch, Windscribe also uses a firewall to prevent leaks outside the encryption. It also does not store any logs.
Windscribe VPN service jurisdiction – where are they located?
Windscribe is located in Canada, and hence it falls under the jurisdiction of a combined intelligence-sharing alliance between the UK, USA, Australia, New Zealand, and Canada.
Is it fast enough to stream a video?
Yes, the connection speed is brilliant. Sometimes it reached above 200Mbps, while in some cases, the average speed was 100 Mbps. It is worth noting that the paid version of Windscribe has got fantastic speeds and can unblock almost every service.
Who is behind Windscribe VPN?
Windscribe was founded in 2015 by Yegor Sak and had its headquarters in Canada.
What other apps does Windscribe VPN integrate with?
Windscribe VPN integrates with many apps such as Netflix, Amazon Prime, Disney+, and torrent. Other apps also include BBC iPlayer streams and YouTube. Some sites are a little cumbersome to unblock than the others; nevertheless, it allows easy access and good streaming.
Can you use it for free?
Yes, it can be used for free. Every new user gets a data limit of 10 GB for the first 30 days.