Trust.Zone VPN Review 2021 – Has the Veteran Provider Still Got It?
In recent times, Virtual Private Network (VPN) is very much in demand. People around the globe are using VPN in their everyday life. It has almost become like a new network base. The ones who are using VPN usually put face in their services. It is a reliable service that secures your data and protects your data. However, they keep the data with themselves and don't share it with the government. With past experiences, it is undeniable that the VPN has become a go-to for everyone. People are taking care of their privacy and security, and that is good. They also want constant speed, which is provided to them with the help of a VPN. That is why sticking to the VPN is not to lose to anyone.
VPNs are somehow like a firewall but with a different feature: they're untraceable and anonymous. They're beneficial at many times other than secure networks as they help save money on some subscriptions.
The use of VPN is constantly increasing. People are getting fascinated now and then with new plans and new features available. With the increase in cyber-crime, people are worried about their privacy and security. Thus, switching to VPNs is a better option for them.
In this review, we'll take a look at a Trust.Zone VPN and check whether it's as anonymous as it declares.
Trust.Zone VPN Review 2021: Is Trust.Zone VPN Good and Safe to Use?
Protecting your data is the primary goal of all VPNs. Even though it's not that easy to find a suitable one, the variety of products available guarantees that it's still possible to find the best option for us. Trust.Zone VPN might even be the one. The following section will cover different topics to ease your decision.
Trust.Zone VPN is a Seychelles-based VPN service. It provides all the facilities like any other VPN. It is one of the renowned VPN in current times. It gives a basic VPN but at a much better cost. It is an affordable and secured VPN. There is state-of-the-art encryption, making it highly secure. There is a 3-day trial available in this VPN. If you made a subscription and want to end it, then there is a 10-day money-back guarantee.
Trust.Zone VPN's Pros and Cons
We like:
They're based in the Seychelles, which isn't a part of any international surveillance alliance
An affordable VPNs with attractive special offers
Kill switch feature which protects your data while your connection is lost
Access to Netflix
3-days free trial
We don't like:
No split tunneling, which means you can't be on a private and a public network at the same time.
No 24/7 live support chat
Only five devices per license
Best for:
Users who seek 100% anonymity on the web and want their data to be protected from cyber threats and unsecured Wi-Fi hotspots
Torrenting and access to some blocked sites
Features of Trust.Zone VPN
Data logging policy
The location of the Trust.Zone VPN Jurisdiction is Seychelles, and, as was mentioned above, they aren't a part of any international surveillance alliance. To remind you, these alliances are present in three different locations.
5 Eyes Alliance: United States, Canada, New Zealand, Australia, United Kingdom
9 Eyes Alliance: 5 Eyes Plus Denmark, France, The Netherlands, Norway
14 Eyes Alliance: 9 Eyes Plus Germany, Belgium, Italy, Spain, Sweden
These are risky places where the stealing of data is accessible. So this VPN might not work in these places in terms of security.
Trust.Zone VPN also doesn't retain any of your web traffic or any other activity you're going through; they only keep the address of your mailbox.
Kill Switch
Trust.Zone VPN employs the Kill Switch feature. This feature ensures that you don't have to worry about the VPN disconnecting, and all the information accidentally gets exposed (apps, websites, or software are shut down if the VPN cuts out). The Kill also ensures that your internet connection will remain safe and anonymous until the VPN connection is restored.
Compatibility
All principle platforms – such as Mac, Windows, Linux, Android, and iOS – are compatible with Trust.Zone VPN. You'll enjoy an easy installation process and fast connection.
Streaming
The most common question among the users is whether a provider works with Netflix. The answer for Trust.Zone VPN is yes. There're servers located in the United States, Canada, the UK, and other European countries. However, their network isn't that broad if compared to other VPN providers. So, you might be slightly disappointed if you're trying to find a server in a specific country.
Trust.Zone VPN Reliability & Security. Is it safe enough?
Switching to a VPN is mostly about safety and privacy. In this case, Trust.Zone VPN has several features available that make it trustworthy.
The code between the user's device and the VPN service is highly encrypted.
Open VPN protocol provides a secure tunnel between two points in a network though protocols are limited.
The Kill Switch feature makes secures the IP address and data. This feature disconnects the device from the internet until VPN is available back online.
Test Results
They don't have an extensive network, but it has two hundred servers in 200 countries. In some cases, browsers ignore that you have a VPN and directly send the DNS request to your ISP. That is one of the ways of DNS leak.
TrustZone protects users against DNS (Domain Name Server).
With the Kill Switch Feature present in TrustZone, there is no chance of leakage of IP address. When you lost connection with the VPN, it automatically disconnects you from the internet. In this way, the IP address will not get revealed.
It also protects users against WebRTC and keeps the identity anonymous and data secured.
Speed Test
Trust.Zone caused more minor delays while downloading on Windows, slowing down only by 14% compared to a 44% decrease on the Mac. As per upload speed, Trust.Zone slowed down only by 13% on Windows compared to 34% on Mac. So the Windows computer is performing better speed-wise.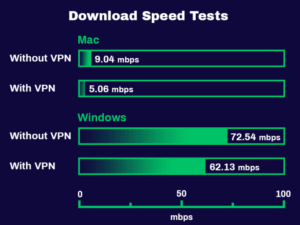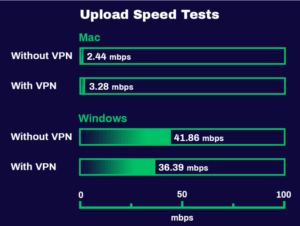 How Much is Trust.Zone VPN Cost: Pricing Packages and Discounts
You can try it out three days for free and then decide which subscription option to choose:
$8.88/month
$3.33/month for one year (overall $39.95 billed annually)
$2.33/month for two years (overall $55.99 billed annually)
As you can see, it's one of the most affordable VPN providers price-wise.
Support and Customer Service
Support is one of the downsides of Trust.Zone VPN. You can only use the online help center by filling out an online form to get any help. As stated on the official website, before contacting support – which is available Monday – Friday, 9 A.M.-7 P.M. – you have to check the FAQ page with answers to the most commonly received questions. In case of any problems, they also ask you to try troubleshooting before contacting customer support. To my mind, it's not the most client-oriented attitude.
Nevertheless, they usually get back to you within 24 hours, and they're pretty detailed in answers.
How to Install Trust.Zone on Windows or Mac OS
Trust.Zone VPN software is easy to install too. It connects to your chosen VPN server location simply with one click. The software automatically selects the fastest and closest location of the VPN server for you. Trust.Zone VPN reconnects automatically when the connection drops.
The official website provides us with a great setup wizard. You have to choose: your operating system, preferred protocol, a VPN Zone closest to your current location. Then you'll see a detailed step-by-step instructions guide, which will help you with the installation and launching.
Final verdict
You've read up till here and wondering whether Trust.Zone is the one suitable for you? Just a quick warm-up Trust.Zone provides an excellent speed throughout their server network. The server in the nearby location nearly maxed out the baseline bandwidth connection. It provided almost 155 Mbps and is not the fastest but one of the fastest. It's one of the trustworthy sites. Trust.Zone is easy to use and is not at all complicated. It can access Netflix, Torrent, and other blocked content. Yes, they have limited customer support, and that's the one problem people came through. But still, Trust.Zone is an outstanding VPN because
It gives 100% anonymity on the web.
It prevents cyber threats and keeps the user safe from prying eyes.
Easy unblocking of any websites.
It prevents your Internet Service Provider from seeing what you do.
If you like affordability, minimal logging police, and quick Windows speed, then the answer is yes. Trust.Zone VPN hits all the right notes for a VPN at an excellent price point. We may say that it's a strong preference for a VPN.
Frequently Asked Questions
What is the Trust Zone VPN's full company name?
Trust Zone VPN is one of the most trustable VPN services. Trust Zone is the name of the company that is based in Seychelles. The whole point of using a VPN is to protect your identity in cyberspace. Although Trust Zone's network isn't wide, the service is top-notch.
Is it Hack-proof?
The prime concern of any VPN provider is to keep your cyber identity private. And Trust Zone VPN does it very well. This VPN is safe, secure, and hack-proof. It uses AES-256 bit encryption and a double VPN that provides an extra layer of encryption to prevent hackers from stealing your data.
Why do you need a VPN like Trust Zone VPN?
The advantage of using Trust Zone VPN is the security. The VPN provider prefers to use OpenVPN and L2TP over IPSec with a warrant canary. The DDoS protection prevents your device from downloading harmful software. It also sorts out potentially harmful traffic when you visit any site. These are the reasons why we recommend using Trust Zone VPN.
A good VPN doesn't keep logs. So how does it fare on this score?
Some VPN providers keep track of the users' online activity. However, Trust Zone VPN doesn't do it. The no-log policy and the transparency of this VPN service keep it standing on the higher side of the score.
How much does Trust Zone VPN cost?
Trust Zone VPN allows you a 3-day trial period for free. If you find the VPN helpful, you can select from the three options that the VPN offers. For a monthly subscription, you can get started with $8.88 per month. However, you can get a better discount of $3.33 per month for a 1-year subscription.
How many devices can you use with Trust Zone VPN?
The trial period package offers 1 GB for 3-days. But the paid packages allow you to access more than 150 servers at a very good bandwidth. Moreover, all the paid packages empower you to connect up to five simultaneous devices on a single license, which is a pretty good deal.
Can this VPN unblock different versions of Netflix?
Accessing Netflix depends on the server where you are connected. So, if you are connected to a server that can unblock different versions of Netflix, you can enjoy your favorite shows and movies without subscribing to Netflix directly. You can get unlimited access to Netflix original shows and movies on different platforms as well due to the simultaneous connections available on the paid package.
What download speed is achievable with Trust Zone?
There are so many factors that affect the speed of the VPN such as the nearest VPN server, hardware, internet provider. But you should also remember that the download speed will always reduce when you use any VPN. Yet, Trust Zone VPN can provide you with 60-70 Mbps with unlimited downloads on the paid packages.
Is it legal & safe to use?
Trust Zone VPN is completely safe to use. There is a 0% data leak. Moreover, the VPN is legal as it abides by the legal documentation and technical verifications. It can also not be forced to share any customer information with the government. The dynamic IP address change makes the VPN safe to use by users.
How good is Trust Zone VPN's customer support?
The Trust Zone VPN has three contact sources – email, social media platform, and the contact form. But we have found that their response through social media is slow. However, they respond within a day if you use the email or the contact form. But this VPN provider still lacks some customer support features that need to be amended.
Is Trust Zone VPN based in a safe jurisdiction?
Trust Zone is based in Seychelles, an island located in the northeast of Madagascar. This indicates that the VPN is out of all the Five, Nine, and Fourteen Eyes jurisdiction. This also means that the VPN is safe from the nosy surveillance from different countries and governments that may want to track your data.
Does it offer anonymous payment methods?
The acceptable payment methods for purchasing the VPN are PayPal, Credit card, Bitcoin, bank transfer, and others. If you are a privacy enthusiast, then you can purchase the VPN connection with Bitcoin and nobody will know. So, yes, Trust Zone VPN offers anonymous payment methods that will contain all your data safe and secure.
Trust Zone VPN voucher – how can you get a free trial?
Trust Zone VPN vouchers can be redeemed from their official blog site. The blog contains different vouchers for discounts and free trials. However, you can simply just register with your email id and click on the free trial button to activate your 3-day free trial period. You will get an activation code via your registered email id.
Does Trust Zone VPN have streaming support?
Trust Zone VPN can bypass different geo-blocked websites. Thus, you can get access to different websites that are not accessible otherwise. Moreover, the VPN has streaming support that allows you to stream live matches, shows, movies, and many different websites with a single click of the mouse. You will be able to have access to BBC iPlayer, Netflix, and other streaming sites.
Does it work for Torrenting?
The dedicated IP address and port-forwarding allow you to retrieve P2P applications. This includes torrenting on its servers. It protects your IP and hides your identity but you can connect with torrent only with bit torrent. So, you need to install the bit torrent and then, you can use the Trust Zone VPN for torrenting.
What company owns Trust Zone VPN?
Trust owns Trust Zone VPN. It is also led by Seychelles' jurisdiction. It is user-friendly with a motto of providing high-level security by encrypting the traffic. The VPN blocks the ISP. It hides the IP address, location and protects your privacy.
What are the perks of using the Trust Zone VPN for gaming?
There are many perks of using the Trust Zone VPN for gaming. But we believe the most important factor is the internet speed. This VPN service provides a great experience with little to no lag in the online gaming space. You can also protect your data and join any room to play without an internet speed shortage.
How many servers and counties do Trust Zone VPN cover?
This VPN provider doesn't have an expansive network of servers. It doesn't cover many countries: there are only around 200 servers in 100 countries. Hence, if you are looking for any server in some specific countries, you might be left disappointed with the results.
Any additional features of Trust Zone VPN?
The additional features of the Trust Zone VPN include high-level encryption like OpenVPN, L2TP over IPSec, kill-switch, and torrenting. Apart from that, it also provides the user with a 10-day money-back guarantee. The processing time of the refund takes up to 20 days only. It also has a mobile app for user convenience.
How well do the Trust Zone VPN's applications work?
The OpenVPN allows the Trust Zone VPN applications to work securely and the DDoS enhances the speed. This makes the applications run smoothly on the platform. This high-speed VPN allows fast torrenting, gaming, and accessing major sites. Moreover, due to the smaller network of servers, the load is also smaller, thus the speed of applications is enhanced.