Everything you should know about Surfshark VPN in 2021
What does everyone do when they need complete anonymity while surfing the Internet? Of course, he tries to find the perfect tool to keep himself safe. In that case, VPN can be such a good helper.
A VPN or Virtual Private Network is an encrypted connection that gives users online anonymity and privacy by designing a private network from the public Internet. VPNs protect the IP (Internet Protocol) address of the users so that their online actions are virtually untraceable. These services establish secure connections and offer more reliable security than a Wi-fi hotspot.
One such VPN which gives the safety introduced above and benefits is Surfshark VPN. The company possesses itself as a reliable, fast, and fair-priced service. It is a registered trademark that consists of a toolbox of online privacy solutions to secure the online lives of users.
Nowadays the market is full of a variety of VPNs, with all sorts of different functions. Which one should you pick? Is Surfshark VPN able to satisfy all your safety and reliability requests? Let's try to find answers to all those questions.
 What servers does Surfshark VPN offer?
More than 3200 Surfshark's servers are located in 65 countries. Though Surfshark is not a very old company, its user base is better than some established VPN serving companies like Private Internet Access. Surfshark offers its servers in several nations like Australia, Canada, France, India, Russia, Portugal, etc. Surfshark holds an upper edge by giving access to a wide network of servers across multiple nations. It also runs double VPN servers in several countries with the support of static IP.
Advantages and disadvantages of Surfshark VPN
Surfshark demonstrates itself as a young but simultaneously quite popular service. To understand if this VPN can satisfy all your expectations, you need to know its strengths and weaknesses. Here is the list of the things I like and dislike about Surfshark.
Pros:
Vast number of devices (connect all of them without any speed limit)
Torrenting (extra protection for all the downloads)
Support through live chat 24/7
Lower price than average on the market
Optimal location chose feature
Cons:
Not the best choice for Linux users (can happen DNS leaks)
No advanced features
No encryption rate change
Best for:
Online gaming and streaming services (you can watch Netflix, Hulu, Disney +. No limits for videos and great loading time. Moreover, Surfshark can unblock limited access to some movies and TV series)
Torrenting (Surfshark provides extra security for all the downloads)
Countries with limited Internet access
 The main features of Surfshark VPN
Surfshark VPN has all the basic features which the average Internet user needs (no more, no less). These functions are quite enough for non-professional, everyday use. Here is the list of the basic VPNs features:
AdBlocker
Tired of the constant ads when you browse pages or when watching videos on the Internet? With this tool, you will forget about ads.
MultiHop
Use two VPN servers at once for the best security ever.
KillSwitch
Even when the connection suddenly drops this feature will still protect you from any possible DNS leaks.
MultiHub
Directing all your Internet traffic through an extra security level.
CleanWeb
This feature helps to get rid of ads, tracking files, phishing, and dangerous Internet content.
Surfshark VPN Speed – Is it Fast Enough?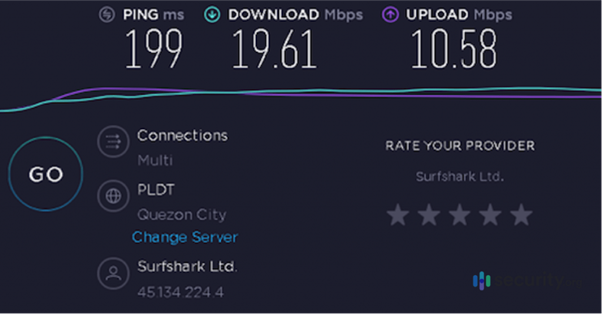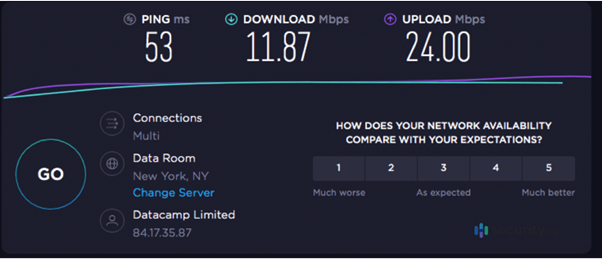 Surfshark is a good competitor on the market and has maintained its dominance in the market through its privacy and security pitches. Though Surfshark is a high-speed VPN, its speed can sometimes be inconsistent, as reported by the users. Thus, the users need to be selective in servers while torrenting big files. Surfshark is considered to be one of the best for streaming and browsing purposes in terms of speed and security, and it gives enough features and benefits to realize the worth of the money to the customer. Surfshark has an average speed of 40 Mbps with video streaming support of 4K, HD video conferencing. It supports all popular streaming platforms.
Though Surfshark is a great VPN service platform, it faces slow speeds and has a smaller network than its top competitors.
 Prices for Surfshark VPN subscriptions
When it comes to the price it's obvious that Surfshark is one of the lowest-cost VPNs currently on the market. Only for $12.95 per month, you can receive the Premium account. Moreover, long-time subscriptions, which are also available, can help to save more. The cost for a 6-months subscription is $6.49 per month (it is 50% economy) and for two years is $2.49 per month (up to 81% economy!). Payment can be made with almost every credit/debit card you possessed. An online payment option is also possible.
 Support and customer service
 The Surfshark team developed a good customer support service. If the help is needed, users can get it through a 24/7 mobile chat the app or directly on the VPNs website. The response time is good (average 5-10 minutes). If the live chat is not convenient you can submit a request which will be reviewed within one business day. Answers to the most common questions can be found on the FAQ tab on the website.
 How to install the Surfshark VPN?
Follow the steps for the installation of Surfshark VPN on your mobile/desktop device.
 Mobile guide:
Search 'Surfshark' on Play Store/Apple Store.
Click on the 'install' icon, and the Surfshark VPN server would be downloaded in a few moments.
If you already have the Surfshark VPN server, you need to log in to your existing account.
Enter the email address and password to login into the server.
Get connected to a VPN.
Pick and navigate the needed locations.
Manage the features of Surfshark.
Manage the settings.
Desktop guide:
Download installation file from Surfshark website.
Press "Install" to start the installation.
Open the app after installation is completed.
Sign up for a new account.
Choose optimal location/server.
 Alternatives to Surfshark VPN
There are many alternatives and competitors to Surfshark in the VPN sector, which outcast Surfshark in many domains.
Following is the list of the competitors of Surfshark which are a threat to its user base:
Nord VPN
It is one of the fastest VPNs with a huge number of servers (5000+) worldwide. It has a clean and minimalistic UI with a kill switch. The cost of NordVPN is one of the cheapest if compared to other VPNs. You can use it from different devices with unlimited server switches and various server locations all around the globe. The VPN server giant offers additional features like obfuscated servers, or over VPN, P2P, etc.
Open VPN
The system development for OpenVPN can be installed on various Operating Systems like Apple, Windows, Linux, etc. Open VPN offers a wide range of features like unlimited bandwidth, multiple simultaneous connections, no-log storage, protocol choices, live customer support, numerous payment options, open-source code, and many more.
Proton VPN
Proton VPN prioritizes user security with the safest protocols. A fascinating feature of this VPN is its Secure Core icon. It routes the entire traffic through multiple servers just by a single click. It has a modern interface that is feasible to use. Moreover, users can create customized connection profiles over the server.
Connect Secure:
Connect Secure allows its users to connect to its VPN network in a very fast manner. It offers its users to deny any access to unwanted users outside the company. It blocks all kinds of false requests. The platform of Connect Secure is fascinating, with simple and stable tools with a good browsing speed.
Conclusion
First of all, SurfShark is safe. If you are looking for a simple, reliable, and low-cost security tool, then SurfShark VPN is just for you. Furthermore, SurfShark is a secured VPN network that offers multiple servers across several nations. It allows you to get connected from multiple devices through a single account. It offers P2P and BitTorrent via VPN on specific servers. This VPN provider also offers some special features, such as Whitelister (It is a split-tunneling tool that routes all the app traffic or websites outside the VPN tunnel). Overall, Surfshark is an excellent VPN; not expensive, and gives back the value of money to its customers.
And what can be better for a regular customer than a security service whose price is equal to its quality?
Frequently Asked Questions
Do you primarily need Surfshark VPN for casual Internet surfing?
Using the internet means that your search history and virtual activities are exposed to the network provider. It gets irritating to see unnecessary ads. Also, you may want to use the public Wi-Fi risk-free. All such problems have one solution- Install Surfshark VPN and enjoy everything securely.
Can you download torrents via Surfshark VPN?
Users often face problems in P2P file sharing as the Internet Service Providers block such activities to save on the bandwidth and other internet protocols. But then, who does not want to relish the benefits of torrents? Downloading torrents was never this easy and reliable as it is with Surfshark VPN.
Surfshark VPN – A Netflix unblocker?
If anyone promises a free entry to the Netflix platform, they are lying. Until or unless someone shares their Netflix account password, you cannot crack into this impressive streamer. But, Surfshark VPN helps to access the restricted movies or series in your country, which are available in other foreign lands.
On which devices can you use it?
One subscription- unlimited connections for all your devices. From desktops to phones, there is a smooth connection to every device. Surfshark`s app supports Linux, Windows, macOS, iOS, Android, Chrome, Firefox, and even Xbox.
Does it support video streaming?
Yes, it does. The VPN supports all the features of a video streamer. With a 4K, UHD video conferencing system, Surfshark is certainly a great option for value for money.
What about a free trial of Surfshark VPN?
The provider understands the concerns and curiosity of every prospective VPN user. Visit the official website to avail seasonal and crazy lucrative deals like free trials and discounts up to 80% or even more. Otherwise, Surfshark guarantees a 30 days money-back option.
Surfshark VPN service jurisdiction – where are they located?
The jurisdiction of service falls under the British Virgin Islands. The provider boasts about having an independent security audit with zero threats.
Does it keep any connection logs?
The Surfshark has a bold name in the list of VPN providers who guarantee a strict no-logs policy. There are no traffic or connection logs here. The service does not store IP addresses, timestamps, bandwidths, or any other user-sensitive info.
Is Surfshark VPN Legal & Safe to Use?
Safety is what they swear by. VPNs are created for ethical surfing and principled access to restricted zones. Privacy is the first right of every individual, and IP address leakage or similar exposure by network providers hinders such rights. Hence, Surfshark promotes privacy and is legal.
How much speed is shaved off by Surfshark VPN?
Surfshark has secured #2 positions among other VPNs as of being tested on the factor of speed. Surfshark key data has recorded a speed of 71 Mbps on average. Several users have clocked speed ranges over 100 Mbps as well. It has been rated 9 on 10 on the speed factor.
How many servers and countries does Surfshark VPN cover?
In around 2 years, Surfshark VPN has covered 3200+ servers in 65 countries, including India, the US, UK, Australia, Canada, France, Spain, Japan, Russia, Brazil, and many more.
What is a parent company's name of Surfshark VPN?
Surfshark Ltd. is the name of a parent company that was founded in 2018. The company have employees in 8 countries currently with a motive to expand employment in new places.
Does it have a Smart TV app?
Currently, it is not available. However, setting smart DNS or router setup can perform the purpose equally well.
Does it support native 2FA/MFA?
Yes, Surfshark VPN supports 2FA or 2 Factor Authentication. Visit
this page
for the complete tutorial.
What is the cost of Surfshark VPN?
The cost is $2.49 for one month. The company also proposes student discounts and other exciting deals.
Does it work with UDP applications and Games?
The VPNs protocols allow UDP applications to be controlled and changed by going to the user settings in the owner's account.
Can you change your payment method?
Can you change your payment method?
Can you expect reliable support from Surfshark VPN?
The official website has several articles under the page Help addressing solutions to various FAQs. The user can also submit a request or get a problem solution in the Live Chat section.
Is it secure to use it on your router?
Yes, it is completely safe to use Surfshark VPN on office or home routers. It not only extends protection to user privacy but also keeps unnecessary guest requests away. Surfshark VPN is proud to be one of the few providers that have passed all security checks. Privacy at a low cost and great speed is what the team promises to deliver. This is indeed what you were looking for!