If you're in the very beginning of your journey of choosing the right VPN, you might google the list of the best VPNs, and you will inevitably see NordVPN among them. It's indeed one of the strongest players in the VPN market. Founders set up the company back in 2012 and have gained an excellent reputation in terms of privacy, security, and speed within a relatively short time. As of March 2021, they have 5475 servers in 59 countries. They're based in Panama, and we're going to talk about how that can potentially benefit its users later on. 
In this review, we're going to put NordVPN to the Test to see if it is still good in 2021 and if it lives up to its hype. 
NordVPN Review 2021:
 Is NordVPN Good and Safe to Use?
Regardless of why you've decided to select a VPN product, you need to evaluate if the chosen one works specifically for you. And the best way to do it is to download the product and test it for yourself for some time. Unfortunately, most of us don't have the luxury of spare time to try more than one or two solutions, even if they don't charge you for the trial. But there is good news! Some products on VPN space are almost "one suit all" because they cover all the customers' requirements. NordVPN is definitely one of those and is one of our top recommendations. Here is how NordVPN stands against the most common VPN requirements.
Privacy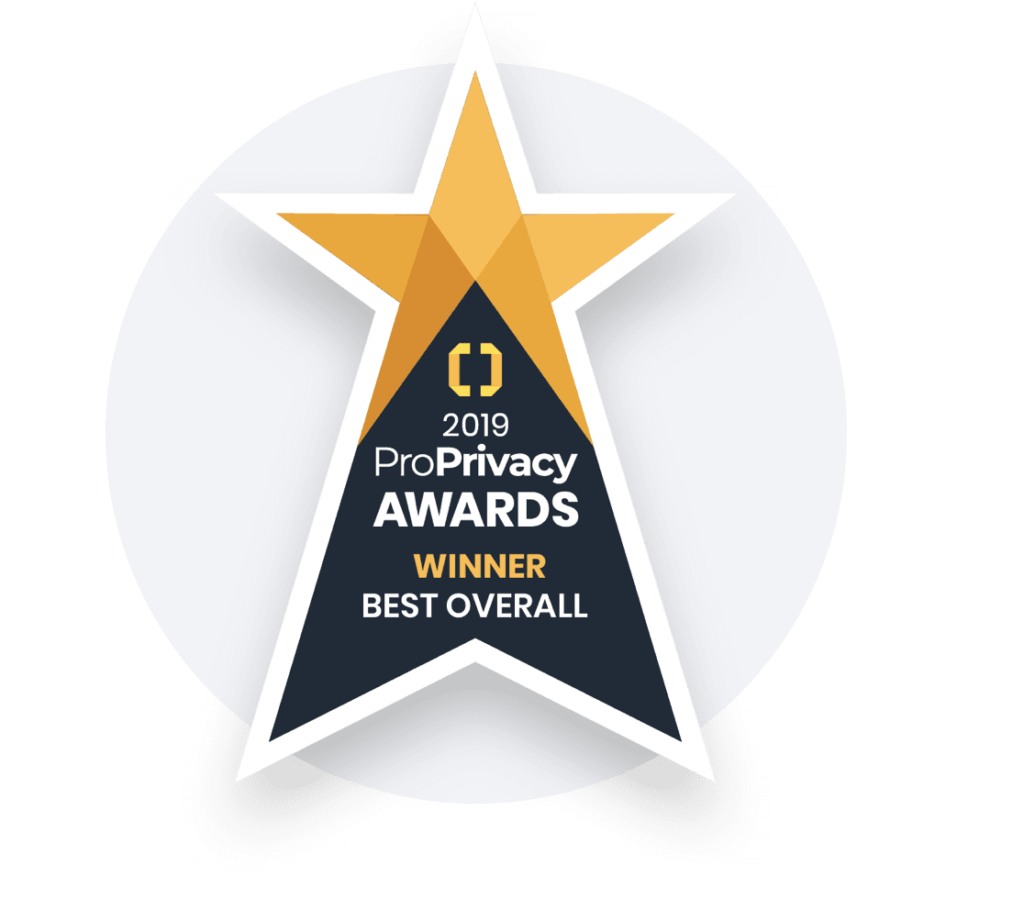 NordVPN has all it takes to protect their customers' data and ensure that tracking your online activity back to you is next to impossible. Here are some features they utilize:
Strict no-logs policy

Masking your real IP-address

Kill switch

Protection against DNS leaks

Dedicated IPs available

The Onion Router

Split-tunneling support
Security
Without encryption, your traffic is not safe. When you use a high-quality VPN service, your data gets encrypted. That way, even if hackers or other maliciously-minded individuals will catch your data in transition – they won't be able to unencrypt it. NordVPN uses modern technologies and was named the best provider for privacy in 2019 by ProPrivacy Awards. Here are some features NordVPN offers in terms of security:
AES encryption with 256-bit keys

Three different VPN protocols (OpenVPN, IKEv2/IPsec, NordLynx)

Obfuscated servers, Double VPN, P2P servers to choose from

Built-in CyberSec (blocks ads and websites known for distributing malware)

Double VPN

Servers in 59 countries.
Please check the "NordVPN Reliability & Security" section to learn more about those features.
NordVPN Pros and cons
We like:
Strong encryption used to protect TOP SECRET information

Great variety of locations and number of servers

Built-in adblocker and protection from DDoS (distributed denial-of-service) attacks

30-day money-back guarantee

Leading speed

Dedicated IP availability 

Apps for all devices 

Connection wizard

You can run up to 6 devices at the same time.
We don't like:
No dedicated router app

The applications aren't very intuitive 

Torrenting only supported on some servers.
Best for:
Users who want to have their ads blocked and basic antivirus protection

Great privacy 

Streaming (including Netflix)

Connecting multiple devices.
Highlights of NordVPN 
Top-notch security with AES encryption

24/7 support through live chats and email

Double VPN that changes your IP address twice

More than 5000 servers

Reasonable pricing 

Stable and fast speeds almost everywhere

Adblocker included

Cryptocurrency payments accepted
Features of NordVPN
Secure Internet
While browsing with NordVPN, all your data is encrypted with next-generation encryption to ensure its protection from hackers, Internet Service providers, and even governments.
Ultra-fast connection
NordVPN saves you from buffering, throttling, and bandwidth limitations. That way, you don't have to opt for security by sacrificing the speed. Check out the speed tests in the "Test Results" section.
Strict no-logs policy
We have no reason not to believe this promise since their location legally allows them not to track or store their customers' data.
Servers around the world
NordVPN has more than 5000 servers around the globe. And even though providers state that the server's proximity doesn't affect the speed, it's not necessarily true. With so many servers pretty much everywhere, you won't have to worry about speed issues.
Uninterrupted streaming
You know that moment when your internet connection gets unpredictable, and the movie you're watching starts to baffle? That's often a result of your ISP's effort to distribute traffic. With a good VPN, that's not an issue anymore since even your provider cannot see how much traffic you utilize.
Plus, you can access all your favorite shows and streaming services even while you're traveling.
Tremendous Amount of Server Locations
As of today, NordVPN has 5475 server locations in the Americas, Europe, Middle East, Asia Pacific, and India. That means you can access content from anywhere in the world. And also, when traveling, you get to choose a server that's closer to your current location so that you don't lose speed.
Run VPN on multiple devices
NordVPN will cover up to 6 devices at the same time. They have apps for devices running on different OSs (Windows, macOS, Android, iOS, Linux), and they can run simultaneously.
Dedicated IP
Most of the plans are shared. It means that you will use an IP address together with many other users, and there is a possibility that the IP address you'll choose has already been blocked by, say, Netflix or a poker website that you're trying to enter. Of course, if you're utilizing a high-quality VPN provider, they would have thousands of IP addresses to chose from. Another good thing is that providers like NoredVPN use dynamic IPs, which essentially means that they change all the time and the risk of blockage is pretty low.
Dedicated IP provides you an unprecedented level of security since you don't have to share this IP with anyone else. Some of the cases where you might want to have a dedicated IP are: 
entering websites with enhanced protection like banking; 

online gambling, where they can potentially refuse to pay out your money if they'd found out that you'd been using VPN;

You simply don't want to suffer from the bad neighbor effect.
NordVPN Reliability & Security
Privacy
In the beginning, we have mentioned NordVPN's location. That's important for VPNs to be located at places where there are no data retention laws. Otherwise, they'd have to log and give away your data to the authorities per their request. Panama doesn't have those, and, as far as we know, Panama's government doesn't conduct Internet surveillance. That's great for the users' privacy because even if the government has a reason to dig into your internet activity – they'd have to go through a painful bureaucratic process. But even when they get there – there'd be nothing to look at since NordVPN keeps no logs.
No logging policy
They don't log your online activity, and their location supports that statement. That means that the only data NordVPN is going to store is your email and payment information. This is industry-standard. However, you can also use various cryptocurrencies to pay for their services, and that way, avoid sharing your credit card information. 
Kill Switch
If your connection with any of NordVPN servers goes down – it won't compromise your privacy. How does it work? Whenever your connection is interrupted, this feature stops all the Internet communications you had. After that, you can re-connect with the VPN server and continue to browse securely. On Windows and Mac versions of the app, you can pick and chose which apps you want to be put on a screeching halt.
DNS Leaks
While you're looking for a perfect VPN to fit your needs, it's important to check that your real IP address is 100% masked. There are free tools that can check which IP and location are shown at the moment. If the IP address shown there is different from your real one – you're good.
Check our test results in the next section.
Onion-over-VPN Service
That's a privacy feature that allows content to go through one of the provider's servers first and then through the Onion network and only after that reaches the Internet. This technique encapsulates messages in layers of encryption. It's named that way because it reminds the layers of an onion. Normally, it's only possible to get connected to this network through the Tor browser. But this feature allows NordVPN's users to connect without using any particular browsers.
Security
NordVPN cares about its users' security in various ways. That is why it got numerous awards as the best VPN service in terms of security. 
CyberSec
It's always great to know that your VPN provider cares about your overall experience on top of providing exceptional security. That what the CyberSec feature does. It blocks all ads, malware, and trackers. It has to do both with user experience and safety. On top of that, CyberSec can significantly increase page loading speed and performance since ads can steal a lot of bandwidth.
Double VPN
There are not many providers that can offer multi-hop functionality. Essentially, it means that your traffic goes not through one VPN server but two of them.

There are several benefits to it:
an additional layer of security

extra protection against compromised servers

Trust is distributed across two servers.
VPN Protocol Selection
NordVPN offers three different encryption protocols to choose from. 
OpenVPN encryption

 is the best for users who are concerned about their security the most. This protocol supports a wide variety of encryption ciphers and algorithms, and NordVPN uses AES-256-GCM with a 4096-bit DH key to make sure that their users' data is protected.

NordLynx (WireGuard) protocol

 is the default one with most apps and is recommended by NordVPN. NordLynx is the newest one in the VPN market and is still considered to be experimental. Yet, it's getting more and more popular thanks to its incredible speed, ease of deployment, and lean architecture.

IKEv2/IPsec protocol 

is designed to increase users' privacy and security by employing robust encrypting algorithms and ciphers. It's usually faster than OpenVPN since it is less CPU-intensive. But many factors impact the speed of connection, so you need to try different ones and see which one works better for your specific setup.
Obfuscated Servers
Normally, when you utilize a VPN, your ISP can't track your online traffic, but it still can see that you're using VPN. Obfuscated servers help you hide the fact that you're using one and allow you to get even into highly restricted environments. It removes all the information that ties your transaction to VPN, how your data looks like the regular traffic. That's how bypassing VPN-firewalls becomes possible. 
Test results
Independent speed testing results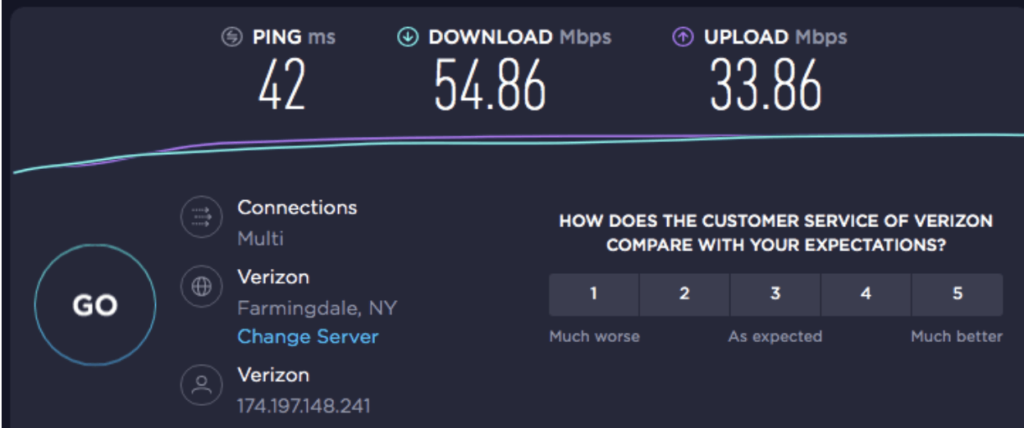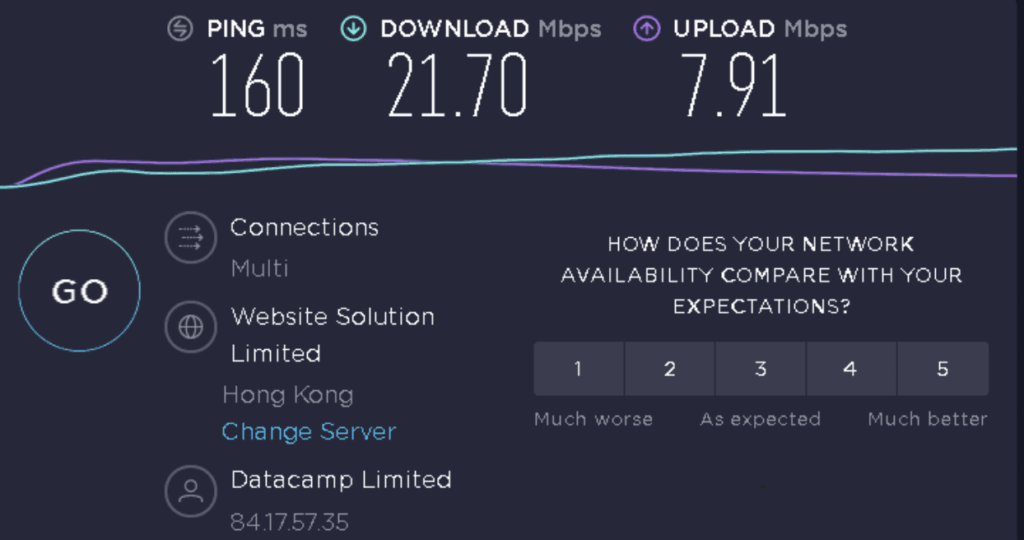 It's important to mention that numerous factors can affect the speed of your connection. Some of them are geographical location, the OS your device runs on, the protocol you use, and the activities you conduct at the particular moment. We ran our tests on two devices that run on macOS and Windows 10. 
The results have shown that the Windows-based device's downloading speed was about 25% faster than the mac-based one. 
The same situation occurred with uploading speed.
DNS Leak test
DNS resolves it into an actual IP address when you type in a domain name, making surfing the Internet fast and straightforward. But this process naturally leaves some data traces along the way. When you connect to VPN, your traffic gets rerouted through a VPN server, and your DNS queries should go through an encrypted tunnel to a VPN provider's DNS server. However, sometimes queries still go along their original path and go to ISP DNS servers. It's a security flaw. There are lots of free software that can help you identify those leaks.
Here are the results of our tests: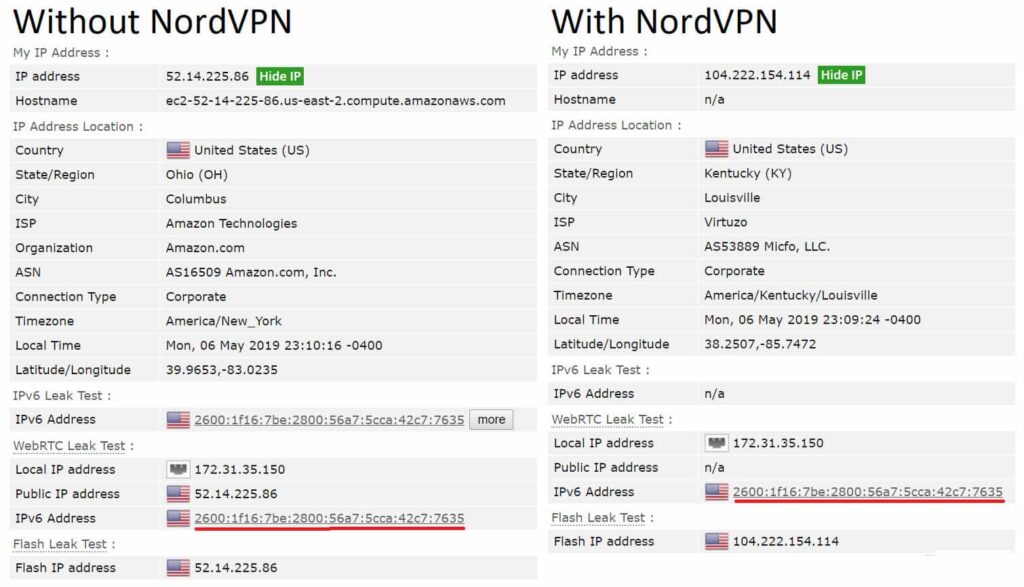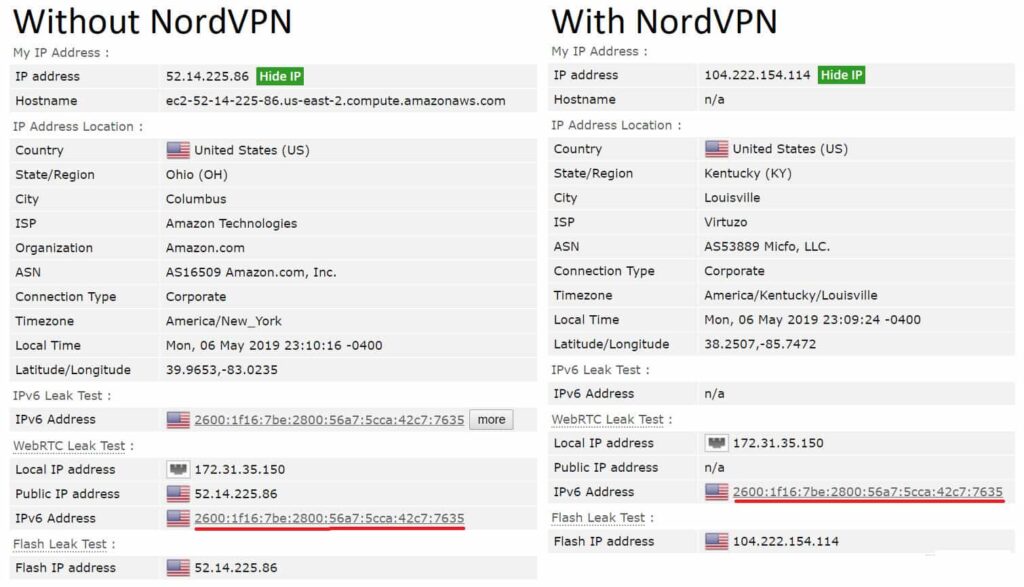 How Much Does NordVPN Cost – Pricing Packages and Discounts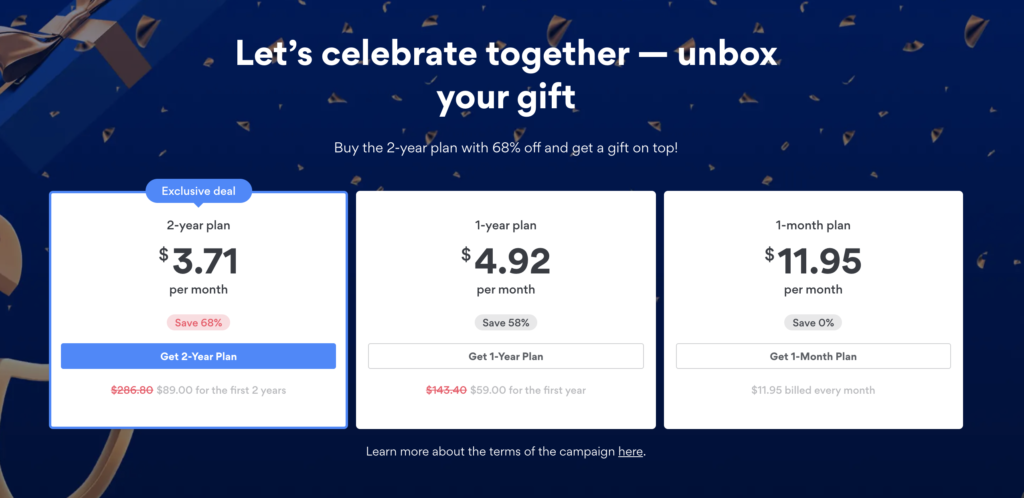 NordVPN has pretty straightforward pricing options, and as many fellow VPN providers, they offer more significant discounts for those who are willing to commit for a more extended period. When subscribing for one year, you're getting a 58% discount. If you're ready to go for a 2-year subscription, you get a 68% discount and a gift on top of it. Since it's NordVPN's birthday, you can get 1-month, 1-year, or 2-year extra subscription time, depending on your luck.
At the moment, NordVPN offers three different plans: for one month, one year, or two years. Here is the pricing breakdown for each plan:
Being one of the best VPN providers out there, NordVPN isn't the cheapest one, but providers still charge more. 
They offer all kinds of payment options, including standard credit card, Google and Amazon Pay, ACH Transfer, Union Pay, as well as cryptocurrency options for increased anonymity. 
NordVPN also provides a 30-day money-back guarantee, so you can explore their services risk-free and get a full refund with no questions asked unless you have got a subscription through the Apple store. In this case, you'd need to deal with Apple policies. 
Support and Customer Service

NordVPN utilizes three customer service channels: live chat, email, and help center, a self-directory academy. 
The reviews from the real customers are generally pretty good, and more than 75% of reviews say that the support was knowledgeable, helpful, and fast. The majority of the bad reviews are around the lack of transparency when it comes to subscription cancellation.
Our experience from dealing with NordVPN's support:
How to Install NordVPN on Windows or Mac OS
NordVPN has apps for pretty much every device and OS you can think of.
To install NordVPN on Windows, follow these simple steps: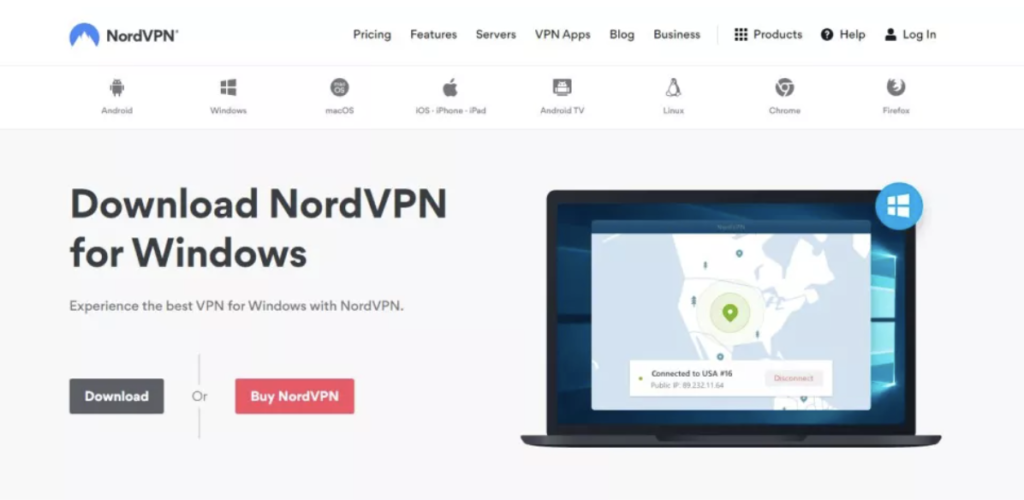 Go to Nordvpn.com, choose the VPN Apps section, then click Windows.

On the top of the page, find the download button and click on it. After the downloading has finished, open the installation file (NordVPNSetup.exe) from your Downloads folder.

 A window will appear asking you if you want NordVPN to make changes to your computer, click yes. Then choose the app's destination on your device. After the installation gets done, the app will launch automatically.

Log in to your account with the credentials you've put in while subscribing to the service. That's it!
To install NordVPN on MacOS: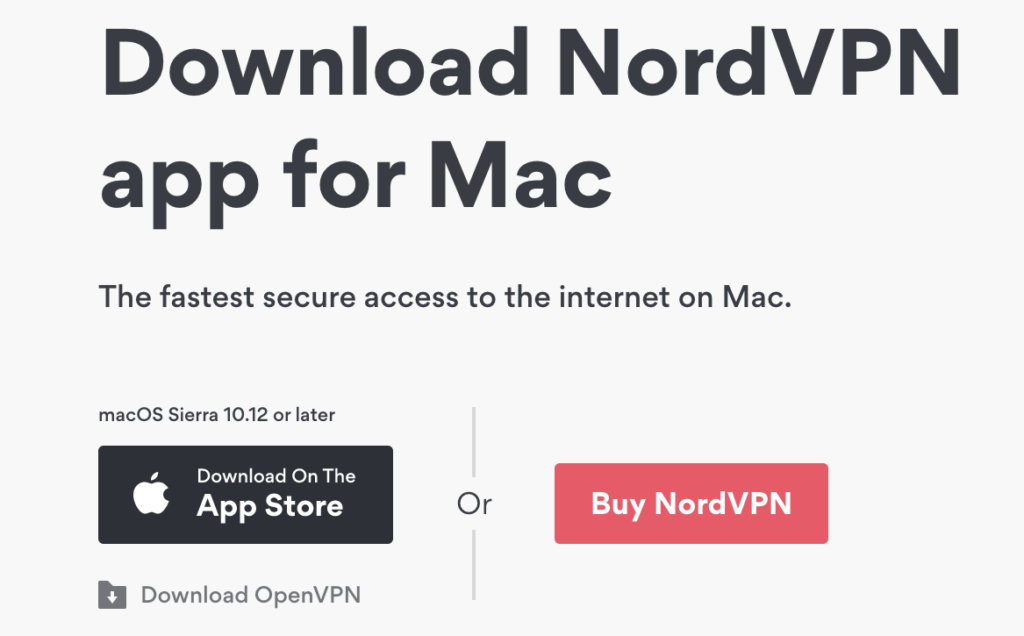 Follow the same two steps as for Windows installation, only pick the app for Mac option. Then press the button "download on the app store."

When the App Store launches, press the blue "Get" button. Once the download is finished, click on Install. 

Find the app on your desktop and launch it. 

Log in to your account. You are good to go!
Final verdict
We definitely do recommend getting NordVPN for those who look for a modern, secure VPN provider with great speed and servers in 90+ countries. It's also a good cost/value proposition since, say, ExpressVPN is more expensive. We like NordVPN for its solid reputation, bypassing censorship, and even hiding your torrenting activity from ISP (not all servers). Their apps seem to need some work, and the Android version lacks a kill switch. But most importantly, NordVPN constantly improves their products and upgrade their servers to keep up with all the new regulations and safety risks out there.
FAQ
Does NordVPN keep logs?
No, they keep no logs. They don't store your IP addresses, locations, bandwidth usage, or any other information about your online activity. They're also allowed to do so since the company is registered with no data retention laws. 
How many devices can you use NordVPN on?
A single account allows you to connect up to six devices at the same time.
Is NordVPN Good for Gaming?
NordVPN is a good option for gaming since they save you from DDoS attacks and throttling. It also offers good consistent speed.
Is There a DNS Leak with NordVPN?
If you're using NordVPN services, your requests only go through NordVPN's servers, so there are no DNS Leaks. Kill Switch feature that allows stopping the session if the connection with the VPN's server was interrupted. It helps to prevent leaks as well.
Can I Watch Netflix with NordVPN?
Yes, you can. However, not all servers will allow you to unblock the geo-restricted content. NordVPN has guidelines on its website on which servers you should use for each country.
What types of payments does NordVPN accept?
NordVPN accepts CC, various payment systems, and even cryptocurrencies.
Does NordVPN have a free trial?
Yes, you'd have to provide your payment information upon subscription. However, if you're not satisfied with the product, you can get your money back within 30 days.
Can you use NordVPN on Xbox and PlayStation?
Yes, you can. There are NordVPN's native apps for both devices. NordVPN works well on both PS4 and PS5.
Does NordVPN offer any solutions for businesses?
Yes, it does. There is a product called NordVPN Teams. You can get a free consultation on their website to estimate the cost and explore products' possibilities.
Can you install NordVPN on your router?
Yes, you can. There are detailed instructions on the company's website on how to do so. Many experts say that this way provides even better safety and anonymity than just stand-alone apps.
Does NordVPN have split tunneling?
Yes, that's a relatively new feature that allows you to exclude chosen devices from a secure tunnel so that you still can access local content.
Breaking Geoblocks: Can it Work in China?
Yes, it can. But it may take a certain amount of hassle to find the server that works at the particular moment. If it doesn't - contact support, and they will manually select a server for you.

How Much Does NordVPN Cost per Month?
Depending on the plan you choose, it's from $3.71 to $11.95 a month.
How to find a NordVPN coupon? 
Please go to our live chat to get the coupon for NordVPN.
Is NordVPN Good for Torrenting?
NordVPN is torrenting-friendly and protects your activity from prying eyes and Internet throttling. It also gives you a good speed of downloading and anonymity.