In this review, we are going to talk about one of the biggest names on the VPN market. This UK-based company has been around for more than 15 years and has developed one of the industry's most extensive server networks. Avast owns the brand since 2016, which sounds promising in terms of security. Currently, the organization has 1100+ servers, which is not an enormous number, but those servers are located in more than 190+ countries worldwide, now that is impressive. But the world has witnessed some challenges in terms of users' privacy connected to this provider. Is it a good option to choose in 2021?

HideMyAss Review 2021:
 Is it good, and can it compete against favorites like ExpressVPN or NordVPN?
HMA provides a great variety of servers and locations worldwide, but if it's a good product specifically for you – it depends on your goals and plans for it. For instance, it works well when it comes to unblocking popular streaming services like Netflix and Hulu, it offers great speed, but it might not be the best option for torrenting or those who use the Internet in China. 
HMA provides strong security features like military-grade encryption, DDoS protection, and automatic connection rules. The one thing that we find concerning is the fact that their headquarters are located in the UK. If you don't know how that impacts you as a user, go ahead and check out this article's privacy section. We put HMA to the test, and that's how they perform against the most common VPN requirements.
Privacy& Security
The privacy features that HMA offers include:
No-logs policy 

IP-address shuffling

Kill Switch and additional app kill switch

256-bit AES Encryption Type

OpenVPN, PPTP, L2TP, IPSec protocols supported.
Speed
That's where HMA! performs very well. There is always a concern that you'd also get a side dish of slower speeds by installing any VPN. And there is some truth to it since a VPN uses up some RAM to reroute your traffic through their servers. So the question here is how much slower it's going to get. Our tests have shown that HMA! provides consistent server speeds and doesn't slow down your connection all that much. They also offer a handy feature that allows you to pick a fast server quickly. See the results for yourself:
Speed without a VPN:

Server in the Netherlands:

Server in the US:

For Asian server, the results were following:

As you can see everywhere apart from Asia, the results are pretty consistent and far from the worst (far from the best either). Most of those servers would give you an opportunity to stream in 4K or take conference calls with no problems.
HideMyAss's Pros and cons 
We like:
Decent speed

Tons of servers available in a lot of countries 

Good device compatibility 

User-friendly apps

Leak-free connection
We don't like:
Previous history of keeping logs and poor handling of customers' data

Slow customer support

Them being based out of the UK (part of Five Eyes Security Alliance)

Poor streaming and torrenting support 

No short-term payment plans.
Highlights of HMA! 
A well-established network of 1100+ servers in more than 190 countries.

Decent connection speeds 

User-friendly apps

No-log policy 

Top-grade 256-bit encryption
Features of HideMyAss! 
No logging
In 2011, a loud case occurred involving a Sony hacker, Cody Kretsinger, who said that he was using HideMyAss! to hide his internet activity. Under pressure from the authorities, HMA eventually had to give away the hacker's data which, presumably, resulted in his consequent arrest. After that, Avast acquired HMA! and had to prove to the world and their users that they still can trust them. That's why multiple changes have been implemented in the past several years, and they even asked an independent consultant to audit the no-log policy, and it was successful. 
Smart Kill Switch 
Kill Switch cuts off the connection when the VPN cannot connect to the chosen VPN server. That ensures that you never surf the internet unprotected unless you choose to do so. HMA also supports an application-level kill switch feature that allows you to pick and choose the apps you want to apply to a kill switch. If you set a kill switch to a specific app, HMA will automatically launch upon entering. 
Split tunneling 
This feature allows you to decide which apps would send their traffic through the secure VPN tunnel and which – not. That means that you'd still be able to connect to a local network and gives you more flexibility when you change locations. 
IP shuffle 
That means that your IP address will be randomly changed several times during your online session. IP shuffle makes it way more difficult for hackers and trackers to pinpoint your location. 
Leak Protection
DNS Leaks happen when for some reason, your requests don't go to the VPN's DNS but to your ISP's DNS. There are multiple reasons why this can occur, including wrongly done manual configuration, hackers, your OS, or lousy VPN. Here are our findings during the DNS Leak tests: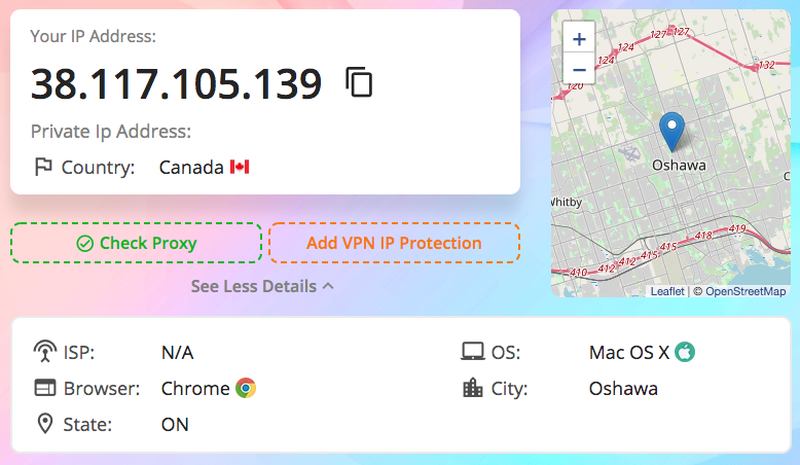 With our current location in the US, we've connected to one of the Canadian servers and tested it through the third-party IP-checker. There were no leaks found.
Military-grade encryption
HMA! utilizes OpenVPN protocol in Galois Counter Mode (AES-256-GCM), with 4096-bit RSA keys for handshakes, authenticated with SHA256. That's one of the strongest encryptions existing.
Fully-encrypted servers
The provider uses unbreakable 256-bit encryption on their servers, so even if someone would manage to break into them, they won't be able to get a hold of your data.
DDoS Protection
HMA saves you from potential Denial-of-service attacks. It's precious for gamers, gamblers, and people who deal with money online. DDoS is a type of cyber-attack that overwhelms your device with requests and can interrupt your internet connection, resulting in a session cut-off. 
Multiple devices
With HideMyAss, you can connect up to 5 devices at the same time. 
24/7 Support
The support options include email, live chat, and knowledge base. 
HideMyAss! Reliability & Security
Although there is a concern regarding HideMyAss's HQ being located in the UK, they do maintain a no-logs policy. The UK is a part of the 5/9/14 Eyes Alliance, which essentially means that if the government requests the information from them, they have to give it away. With that being said, they stopped keeping logs, so if there is nothing to give away – there is nothing to worry about. In 2020 the independent audit of their no-logging policy was conducted by security consultancy VerSprite. They analyzed data, traffic, and storage on the client and server-side. They also checked if users' personal data was, in fact, anonymized. HMA got the minimum possible 'low risk' user privacy impact rating.
The facts are that they use top-notch encryption. You also have an option to choose a protocol that addresses your needs, including the most popular OpenVPN. 
When purchasing HMA, you need to provide some personal information like a credit card and your full name. That's also true for the majority of VPN providers, but HideMyAss doesn't allow you to pay for their services with Bitcoin or other cryptocurrencies.
How Much is HideMyAss! Cost – Pricing Packages and Discounts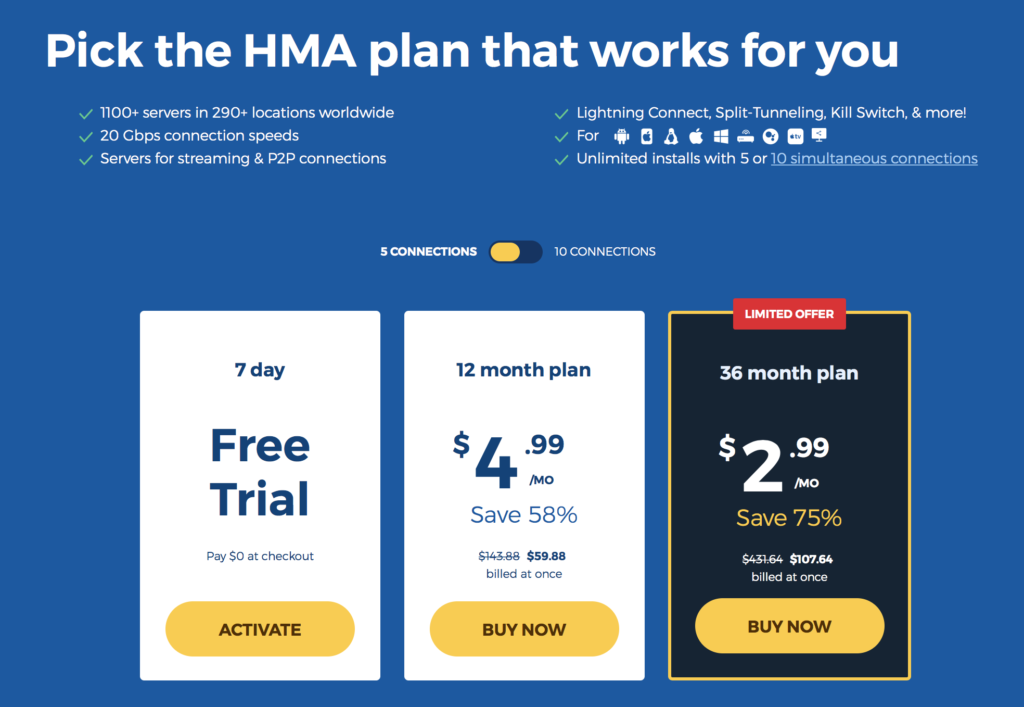 There are two pricing plans available -for one year and three years. It's a standard practice in the industry to offer bigger discounts if you commit for a more extended period. It's quite unusual, though, that they offer a seven-day free trial. That's great to test the speed and the apps in general. However, most providers have subscription plans for shorter periods, e.g., three or six months. Like many fellow VPN market players, HMA provides 30-day money-back guarantee. 
The payment options include credit card, PayPal, bank/wire transfer and some other payment options. You can't pay with cryptocurrencies.
We looked into tons of VPN providers, and we can indeed say that HMA's pricing isn't high or low – it's somewhere in the middle, and some providers can give you a better value proposition.
Support and Customer Service
HMA offers several support channels:
Knowledge base, where you can find the answers on your own;

email – where you can get answers in different languages;

community forum;

24/7 live chat on the website for anything urgent.
Our observation that the content in their knowledge base isn't as in-depth as the top competitors. Also, the navigation isn't as intuitive as it can be. 
Some customers claim that support answers way too slow, and sometimes it takes more than 24 hours to get any response from the support. Our live chat experience wasn't that bad – they have been responding fast, and it wasn't typical links to the articles or automatic replies. 
The community forum isn't very crowded, but HMA employees do monitor it, and if you'd post a comment there, they will typically reply within several hours. 
How to Install HideMyAss on Windows or Mac OS
HMA offers apps for every major OS and device type out there.

To install HMA on Windows, follow these simple steps. If you have any challenges, you can refer to their knowledge base or drop your question to live chat.
Go to the HMA website. Press the "Download" tab on the top of the main page. Select "Windows."

Pick the HMA plan that you prefer, or click on a 7-day free trial.

Then press the download button. The installation should begin at this point. After that, click install on the Windows service window and follow straightforward installation instructions.

Log into your account with the credentials you get upon registration.
For Mac OS the procedure is very similar, but instead of Windows, choose the Mac OS client. 
Final verdict
HMA definitely provides good speeds and offers good server location variety. We also don't have a problem with the encryption that they offer, and their no-logs policy seems to be legit. However, giving the previous troubling track record and opportunities that HMA provides to its users, we'd say that you can get more for your money. Some of the best VPNs give you way more freedom, seamless streaming, and even torrenting options for just a couple of dollars more. Besides, with HMA, you have to commit at least for a year. However, one more thing to mention was that they stepped up their game during the last couple of years, and we might see more improvement in years to come.
Can HMA unblock Netflix?
HMA claims on their website that you can stream your favorite shows with them with no problem. Is that true? The short answer is not always.
But the fact is, if you'd filter the servers that can actually give you what it takes to stream successfully – the list wouldn't be too long. We tried to unblock Netflix and other streaming services with the servers' help and were only partially successful. That didn't surprise us. When many people use the same server to get to the app – all the IP addresses associated with it may already be blocked. IP shuffle can help, but not for every service. 
Is torrenting available with HMA?
HMA historically sends mixed messages about torrenting. They have tutorials on how to deal with torrent clients, but there is evidence of them blocking users' accounts for torrenting. So, who knows what they actually think about it. One thing for sure, they don't want you to torrent copyright content (as every other VPN provider would say). 
On top of that, they only have a handful of p2p-optimized servers: in Frankfurt, New York, Amsterdam, Prague, and London. That should make you understand that if torrenting is your premier reason for even considering installing a VPN – keep looking.