Express VPN has been one of the most highly recommended VPNs for a long time, and rightly so. These guys have been dominating the market since 2009 alongside a couple of competitors. Express VPN offers more than 3000 servers in 94 different countries. So, clearly, they are not going anywhere any time soon. Express VPN allows you to use more than five devices at the same time. But is it still good, safe, and covers your needs in 2021? This article will go into deep dives on Express VPN safety, user policy, customer experience, functionality, and more. 
Express VPN Review 2021: Is Express VPN Good and Safe to Use?
All VPN products are meant to do the same thing, but why can't you just pick the cheapest or even a free one and call it a day? If you ask a good consultant about the best VPN product for you, they would ask you about your goals, requirements, and budget to make an informed decision. They would also warn you against using free options since they were spotted making false claims about their speed or no-logs policy or even selling their users' data.
However, there are safe options that potentially could fit all. Express VPN can very well be one of those. This section will talk about various criteria and how Express VPN covers (or not) them. 
Privacy
Express VPN goes above and beyond when it comes to their users' privacy. Those are some key features they've implemented:
Masking your IP address and location

256-bit AES encryption

160 server locations 

Kill switch

No activity logs, no connection logs

Private DNS on every server

Split tunneling.
Security
ExpressVPN is famous for its military-grade encryption to sleep at night knowing that your data is safe and isn't exposed to random data breaches. Here is their offering:
AES-256 bit encryption

Seven different protocols to cover various needs

Secure authentification with 4096-bit SHA512 key

Customization options for tech pros

SHA512 hash authentication

Perfect forward secrecy – even if the encryption key is somehow compromised, past sessions will remain encrypted and won't be reachable.
Please check out "Express VPN Reliability and Safety for an in-depth study of those features.
Speed
When it comes to speed, Express VPN has shown excellent results in multiple independent testings. You got to know that the farther the server's location is – the worse the speed gets. It is true for any given provider, and Express VPN is not an exception. You also need to keep in mind that the speed testing results may vary according to your operating system, device model, and other contributing factors.
We don't want our Internet to be any slower than it is. That's why speed is a crucial factor for selecting the right VPN. Testing shows that Express VPN still provides great speed, and what's more important, the speed is very consistent. As I've mentioned, it all depends on where you are and what hardware do you use. That's why the best way to determine if the particular VPN is right for you – it's to test it for some time. Luckily, Express VPN offers a free 30-day trial.
The only thing that Express VPN doesn't have is dedicated IP addresses. While it might not be an issue for the majority of users, if you have a reason to look for enhanced security, speed and be independent of traffic load that others put on a shared server – you need to turn to another provider.
Express VPN Pros and Cons 
We like:
Privacy that it provides

Free 30-day trial

A great number of servers worldwide

Knowledgeable support
We don't like:
The cost is pretty steep

Fewer features compared to other leading VPNs

Lack of customization for tech-savvy users
Best for:
Uncompromised privacy

Torrenting

Streaming (Netflix, Hulu, and others)

Various platforms (Windows, Mac, other)
Highlights of Express VPN 

No restrictions

Live Chat and Email 24/7 support

DNS Leak Protection

7 Protocol support

No logs and kill switch 

Offshore Privacy Protection
Features of

Express

VPN
Multiple Server Locations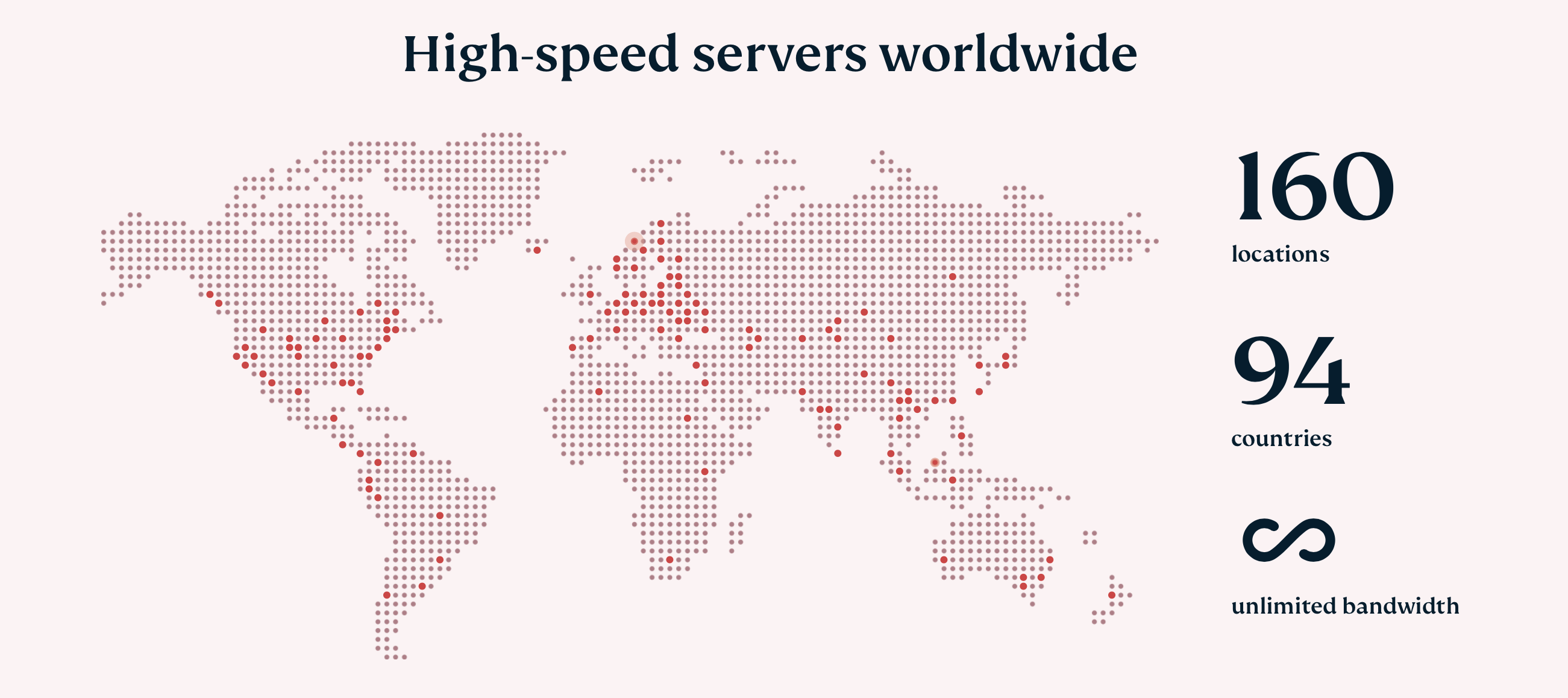 Express VPN offers you a choice of more than three thousand servers in 160 locations within 94 countries in Europe, the Americas, Asia Pacific, Africa, and the Middle East.
IP-address Masking
You can mask your actual IP-address to make it look like you're anywhere in the world. 
Multiple device support
Express VPN has apps for every device, including but not limited to Windows, Mac, Smart TVs, and game consoles. You can also run it on your router to protect all the devices.
Content

accessibility
Since Express VPN has so many servers, you can access content from any country, regardless of your current location.
24/7

Support
Live chat and email support available with real people on the other side of the screen. 
Privacy and

anonymity
Extended privacy allows you to browse, torrent, and stream content safely.
Unlimited

high-speed

bandwidth
It means that the provider doesn't set any limits regarding how much data you can download or upload in a month. It also means no ISP service throttling – meaning that your Internet Service provider cannot intentionally slow down your traffic, which they usually do to regulate the traffic load on their network.
There are also advanced features available with Express VPN:
No-logs

VPN Split Tunneling (we talked about it a bit earlier)

TrustedServer Technology (using RAM rather than storing data on a hard drive)

Best in class encryption 

Kill Switch

Private DNS on every server
ExpressVPN browser extensions
ExpressVPN offers browser extensions for Chrome, Safari, and Firefox. Those extensions come with some additional protection against WebRTC leaks and HTML5 geolocation spoofing. 
Express VPN Reliability & Security
Privacy
Typically, you wouldn't care too much where the company is based. But when it comes to security and local regulations, the registration significantly impacts its privacy policy. Express VPN is officially a British Virgin Islands (BVI) company. BVI, in fact, are self-governed and have their courts and laws. What does it mean for Express VPN users? That the company doesn't have to produce records about your activity to anyone, including other governmental services, without a court order from a BVI court. It doesn't really get any more private than that. To sum it up: Even if you're currently under investigation anywhere globally, authorities can't force Express VPN to give information about your online activity since there are no data-retention laws in BVI. 
Express VPN

also

provides a tested kill switch. 
Let's say you're playing poker online (or maybe watching your favorite show) somewhere in the world where you can only get access to those services through a VPN. And all of a sudden, your VPN connection dropped for whatever reason. If you'd keep watching/downloading this information leaks to your Internet service provider or whoever else is watching you. This situation is prevalent and makes all your previous privacy-protecting efforts useless. That's why a kill switch is a must. When your VPN connection drops, a kill switch automatically shuts down all your online activity and sends you a message about a mistake. That way, you can reconnect to your VPN and proceed safely. 
To make sure that your data isn't slipping through your fingers – you can check your device for DNS Leaks. Express VPN has its own tool, but you can also use free third-party tools like https://www.dnsleaktest.com/. 
No-log

policy
When we speak about logging, we mean the information VPN provider saves about your online activity, including real IP address, browsing history, pretty much everything you do online. Express VPN states that they engineered their servers and apps to eliminate all sensitive information. They say that no one can compel them to give out their users' data since this information simply doesn't exist. So if the absence of data retention laws wasn't enough, the no-log policy is going to do it and keep your data as private as possible.
It's important to protect all the devices you have. However, if you have decided to use a VPN on your router instead of installing the app, it can be challenging to use other devices. That's when split-tunneling comes in handy. It allows you to configure your devices in which all of your laptops' or PCs' traffic would go through VPN, but your other devices like a printer would still operate on a regular network, and anyone else still can use it. Express VPN allows you to configure split tunneling in any way you like. 
Security
Privacy is crucial for VPNs, but there is another key element – security. Suppose you're currently in the process of choosing the right VPN. In that case, you need to pay attention to two main security components: encryption they use to protect their data and VPN protocols they use to carry your information. Express VPN utilizes 256-bit keys (AES-256) encryption. This type of encryption is used to protect tons of governmental secrets. Simply put, it takes a lot to break through it. 
Express VPN allows you to choose from seven VPN protocols that they support. All the VPN protocols have the same goal – to make the connection more secure, but they have different specializations. For example, OpenVPN lets you unlock blocked content, IKEv2 is fast and stable, and L2TP is very safe. Express VPN servers are located in 148 cities to ensure you can access whatever content you might need. But not all of those servers can use all of the protocols available for picking. Luckily, there are so many of them that you will easily find a suitable alternative. If you don't want to get into details, you can select "Automatic" mode enabled, and Express VPN will choose the one that corresponds to your network settings the best.
On top of all of the above, Express VPN has invited independent auditors to review their claims. PricewaterhouseCoopers confirmed all of their security claims alongside the no-logs policy.
All Express VPN servers run in RAM-disk mode, which isn't common. It means that it doesn't write any data to a hard disk, minimizing the chances of data risks even further. It's called TrustedServer Technology and is also verified by PWC.
All of the above factors contribute to privacy and safety while you use VPN, and it's safe to say that Express VPN is one of the safest options on the market, so if it is something you're looking for – you should give it a go. There is always a fear that you'll have to sacrifice the speed if you'd use a VPN. But with a high-quality provider, it's not necessarily the case.
Express VPN Test results 
Independent Speed Testing Results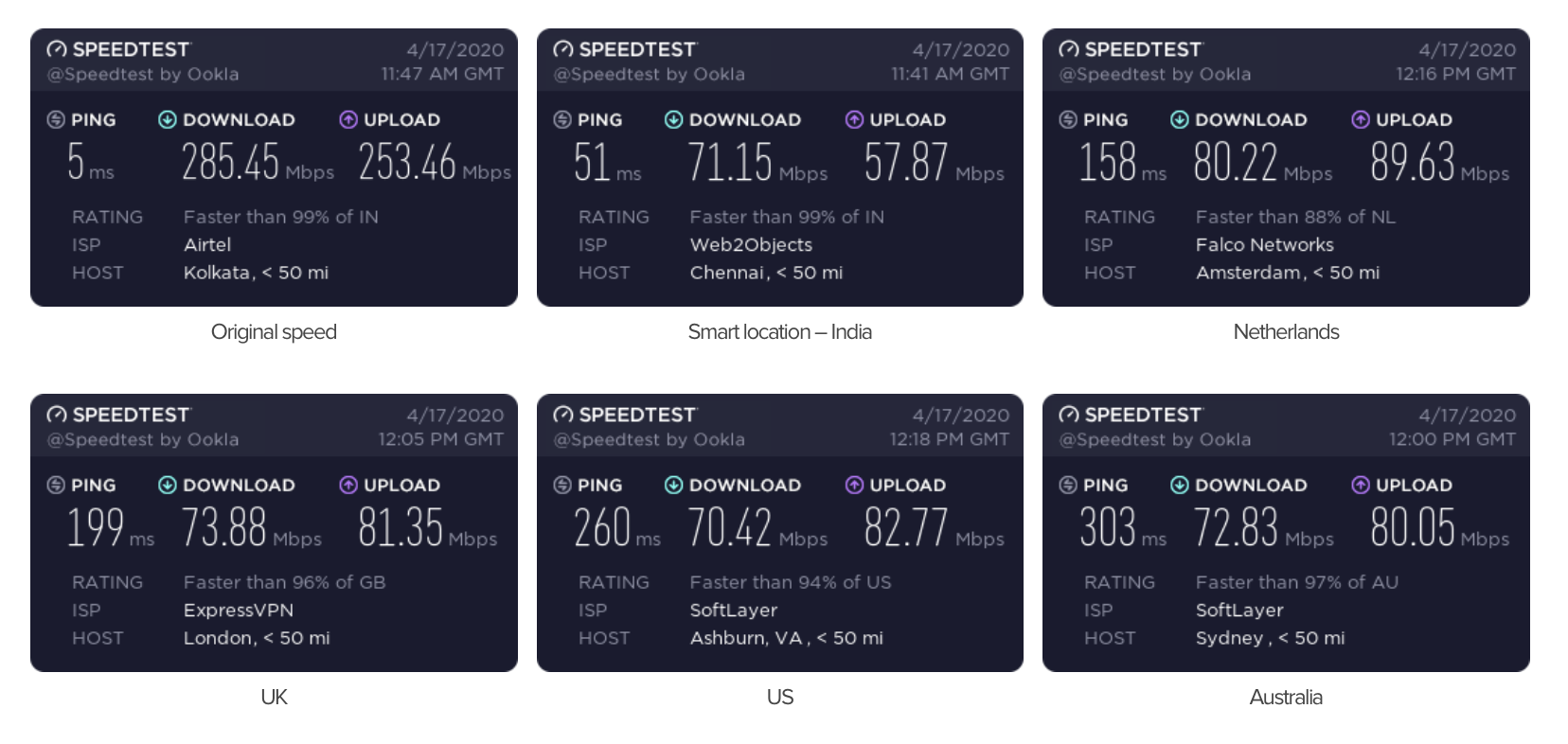 DNS Leak

Tests
ExpressVPN has been tested on multiple occasions in regards to DNS leaks by independent users and no leaks were detected. This claim has also been audited by PWC which confirmed that ExpressVPN has all the necessary protection against DNS leaks. But you also test it yourself with ExpressVPN DNS leak detector or any other third-party app.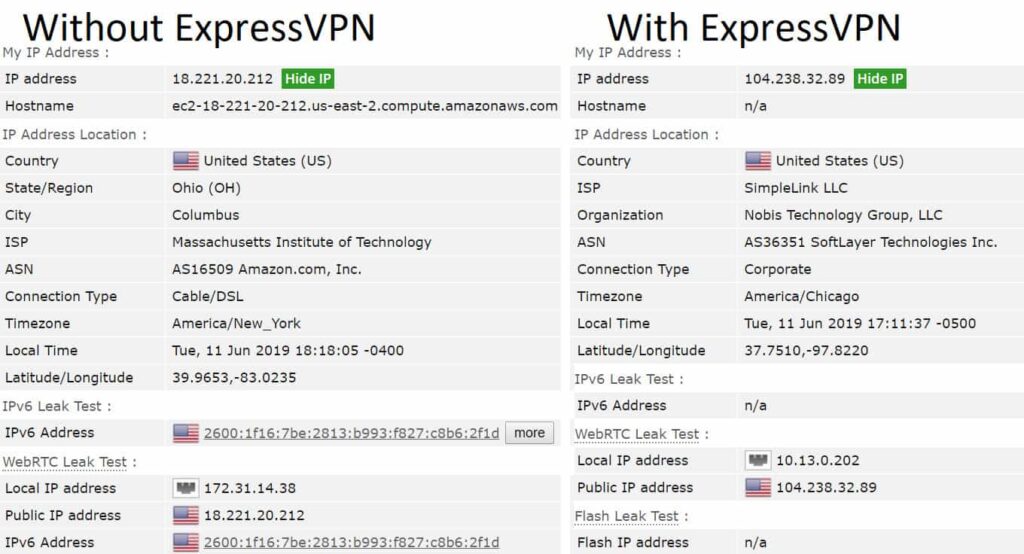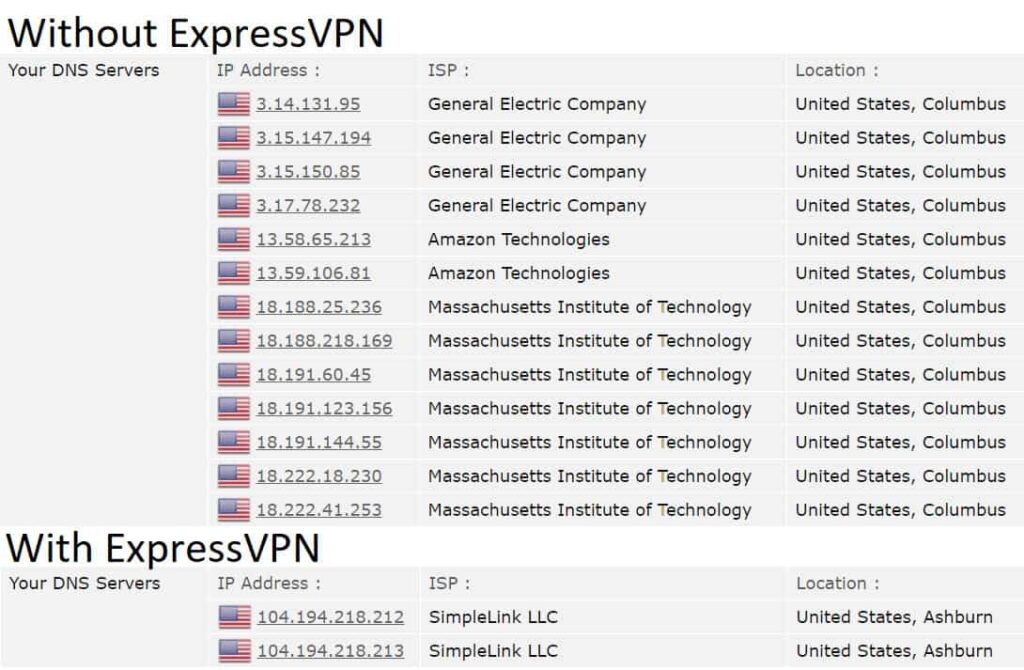 How Much Does Express VPN Cost – Pricing Packages and Discounts
Express VPN pricing policy is straightforward. They have only three main tiers: for one month, six, or twelve months. The longer your subscription cycle is – the cheaper a month of use gets. The only difference between packages is price and length. You don't have to compromise on any features by choosing any of the plans.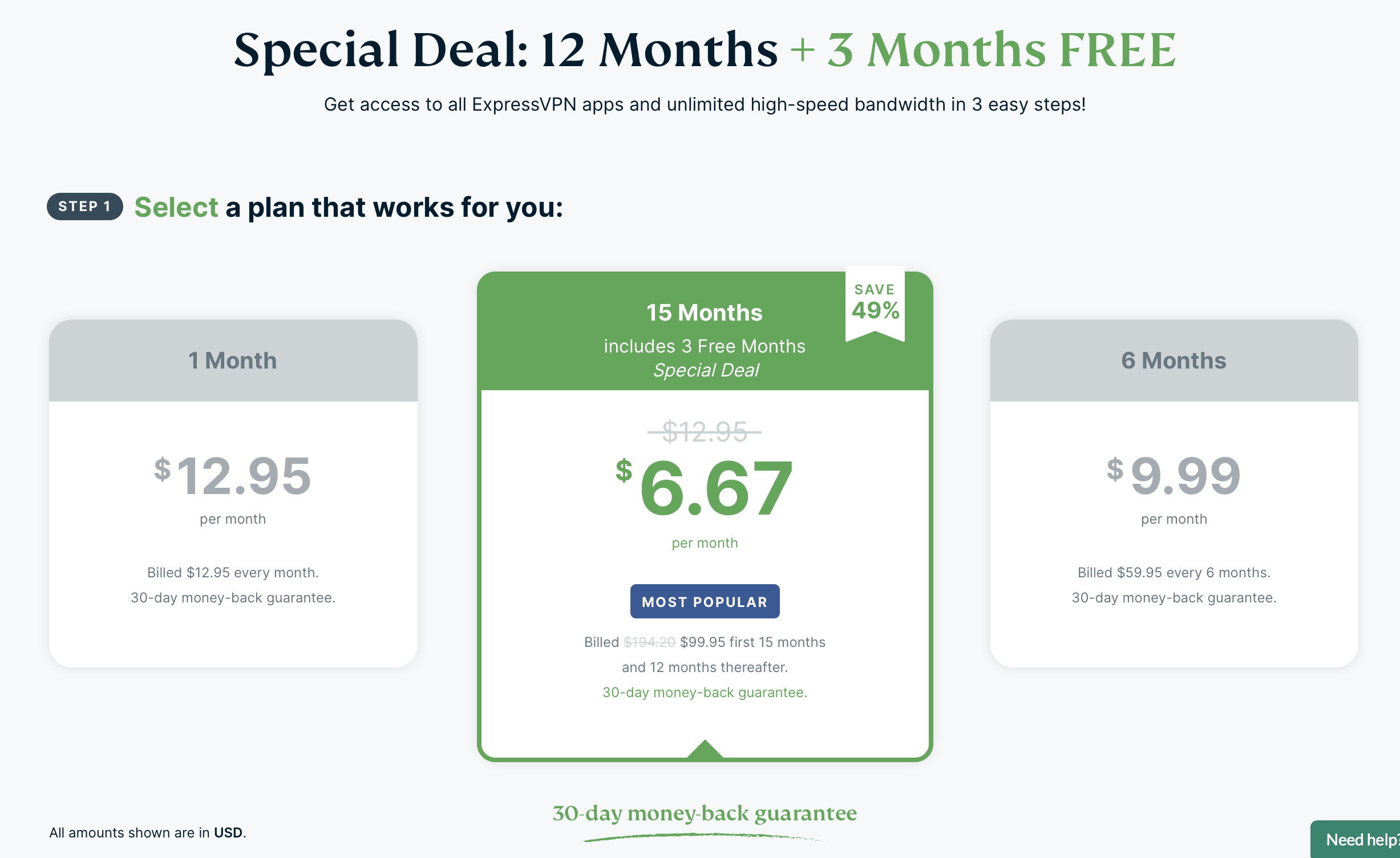 All plans offer a 30-day money-back guarantee with no questions asked, which makes subscribing to a plan risk-free. 
There are multiple payment options: credit card, PayPal and other payment clients, and even Bitcoin!
There is a special deal where you can get three months of VPN for free if paying in full for a 12-month subscription in advance.
If you want to go on a month-to-month basis, you'll have to pay $12.95 a month, which is, of course, higher than the market average. There is no wonder since the company positions itself as a premium provider. There has been no evidence of the company coming back on their promises, so they are totally worth the dollar for the high-quality services and enhanced security they provide. And at the end of the day, it's only a couple dollars a month difference compared to mediocre competitors.
Just a reminder, Express VPN offers only shared IP options, so there is no dedicated IP pricing.
Torrenting with ExpressVPN
While you might not find this information on a company's website, this provider is one of the most popular ones for torrenting. One of the reasons behind that is that every server is optimized for P2P sharing which is not something that every provider can say. It essentially means that you don't have to hang around trying to find the server that would work for that need, they all do! There are also no downloading caps and you're safe from ISP's throttling which means you download as much data as you want at a consistent speed through a reliable and secure provider.
Usability
Express VPN provides mobile apps for pretty much every device out there. They claim that installment and configuring your app shouldn't take more than five minutes. I've tried it myself and can confirm that it's pretty intuitive and straightforward and doesn't take too much time. Please see the "How to Install Express VPN on Windows or Mac OS" section for detailed instructions.
Both Android and IOS apps are very similar in design, and the interface is user-friendly.
Support and Customer Service
It's not really easy to find a support link on the Express VPN website. You can find the "contact us" button at the bottom of the website.

Even for non-customers, it takes less than two hours to get a response. As for live chats, support responds quickly and is knowledgeable. I never had to wait for more than five minutes to get a response. They are utilizing Zendesk support system for their tickets.
How to Install Express VPN on Windows or Mac OS
The steps to install and launch ExpressVPN are the same for both Windows, macOS, or Android. The only difference would be the app that you'd need to download from ExpressVPN website.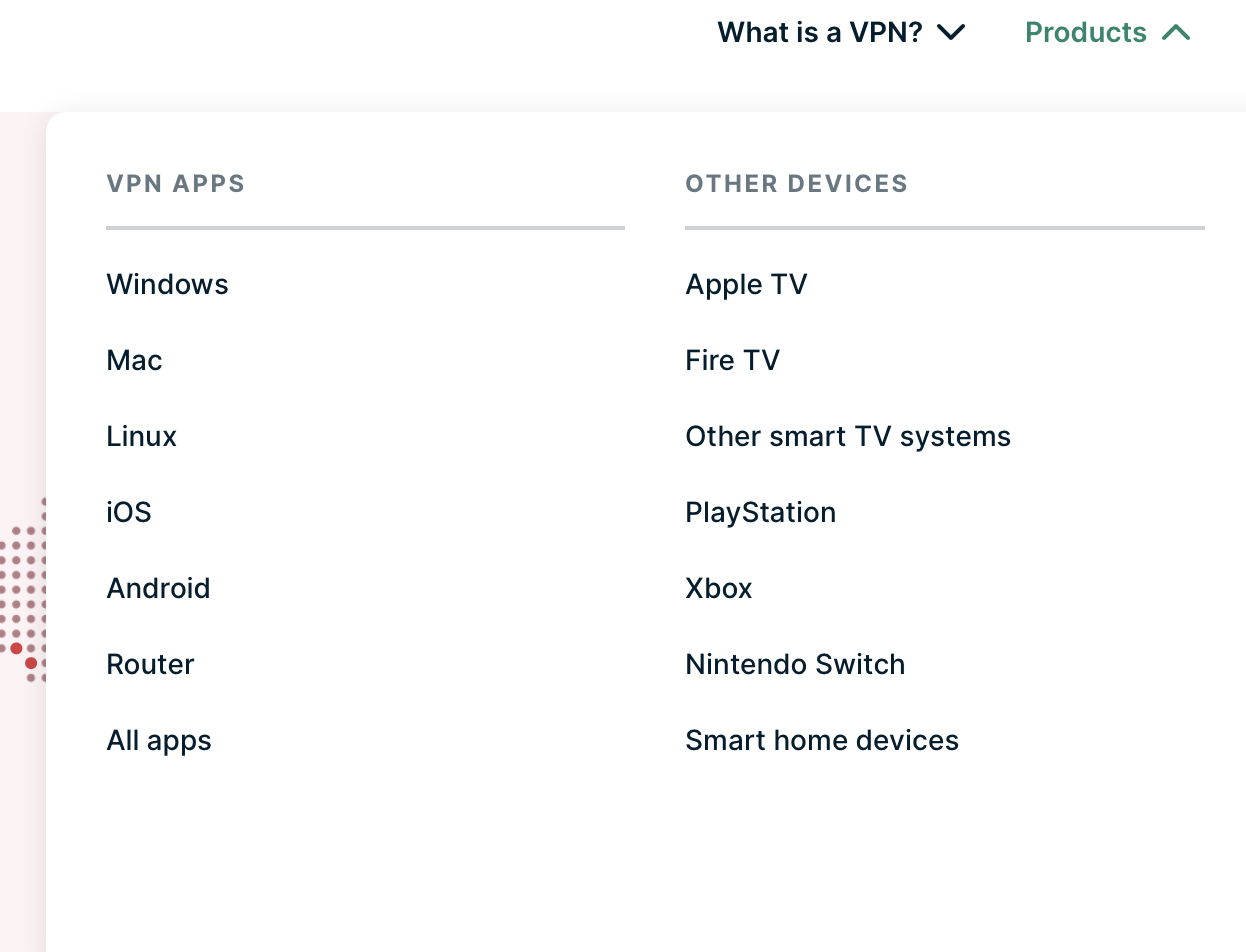 Desktop: 
Download the app from the ExpressVPN website

Install the app

Sign in by using your activation code

Choose if you want to launch the app

Choose if you're going to allow diagnostic reporting

(optional) Choose a specific server location or smart location

Turn on the VPN and enjoy secure browsing
Mobile Devices:
Install the app from your native App Store or PlayMarket

Sign in using your credentials.

Follow the simple guided setup on your screen.

Turn on the VPN and enjoy a secure online experience.
Express VPN Final verdict
We recommend ExpressVPN. It's a reliable, long-lasting, and trustworthy player in the VPN market. If you're looking for a solid product that's not going to let you down regardless of your current location – ExpressVPN is a product for you. Yes, it is a little bit more expensive than most of its competitors, but it does provide security, privacy, and fast connection. It's easy to install and set up even for those with little or no technical knowledge, and round-clock support is a plus. At the moment, ExpressVPN doesn't provide built-in ad-blockers or malware protection, which is not necessarily an issue if you're already using an antivirus. 
If you're still unsure if ExpressVPN is right for you, go ahead and check out our reviews of its closest competitors. 
FAQ
Does ExpressVPN work with Netflix and other streaming services?
Netflix normally blocks IP addresses associated with VPN services. Express VPN is one of the few providers that can unblock Netflix everywhere due to its number of servers worldwide. ExpressVPN is a top-performer and allows you to watch shows even in 4K.
Can You Torrent with ExpressVPN?
Yes, you can. ExpressVPN indeed hides your real IP and doesn't store your data, and it's almost impossible to track your online activity back to you. That's why ExpressVPN is considered to be one of the best solutions for torrenting.
How Many Computers Can You Install ExpressVPN On?
You can install ExpressVPN on as many devices as you like using the same account. However, only five devices can be connected simultaneously. 
VPN Protocols – Is ExpressVPN Secure?
Express VPN offers a choice of seven different protocols that are suitable for different types of online activities. It provides governmental-grade security. The default protocol is OpenVPN.
Does ExpressVPN Have an Adblocker?
No, it doesn't. Unfortunately, ExpressVPN doesn't provide a built-in adblocker.

Where is ExpressVPN based?
ExpressVPN is based in the British Virgin Islands. The word British here is mostly nominal since BVI has its laws and court system independent of Great Britain. ExpressVPN's location is a security advantage because BVI doesn't have to release any data to anyone without a BVI court ruling.
Is ExpressVPN good for gaming?

ExpressVPN is considered to be the best VPN solution for gambling on the market. If you look to max out your connections, have a stable and reliable connection, and no lags - that's your number one option.
Does ExpressVPN accept Bitcoin or other cryptos?
Yes, ExpressVPN accepts Bitcoin along with other payment methods like PayPal or credit cards.

Does ExpressVPN work with HBO?

Yes, it does. You need to have an HBO app installed to stream through ExpressVPN.