BlackVPN: Tech Experts are Revealing All the Secrets
Established in 2009, BlackVPN provides its users' free and secured network. The company claims the user's privacy to be a number one priority. BlackVPN was registered in Hong Kong and now operates on around 31 servers in 20 locations. It covers around 18 countries, including Romania, Czech Republic, Australia, the USA, and many more!
Is BlackVPN Good and Safe to Use in 2021?
The company's commitment to providing privacy to its customers is awesome. But, the tech specialists who tested this VPN service pointed out a few points about BlackVPN that inexperienced users should definitely check out:
Streaming. Some streaming services like the BBC iPlayer and Netflix are unavailable in many regions with this VPN. It is not very convenient for the customers and they are obliged to use a different provider in those regions. Therefore, BlackVPN loses the loyalty of its clients (and, let's be honest, the income as well).
Security and privacy. The cool thing about this VPN is that it offers complete anonymity while browsing, safe file downloading and uploading. Moreover, it blocks the unrequested traffic and never records its users' activity, bandwidth, connection, DNS logs, or IP address. What else does the perfect VPN need to do?
Speed. BlackVPN developers guarantee the fast setup of the app. But the reality is: the speed is nearly zero and you need to try to download it 2 or 3 times before it actually starts working. Very small, but unpleasant deficiency.
Pros and Cons
We like that:
It is very simple to figure out how BlackVPN works: all its characteristics and settings.
You can sign up for a free trial. You will experience all the aspects of BlackVPN before making a payment.
BlackVPN will not influence your I-net connection or your device's speed.
There is no difference in what operating system you use: BlackVPN is available for all of them!
14-day refund policy. BlackVPN allows you to get your money back if you are not fully satisfied with the services provided.
BlackVPN protects your device from different malware and viruses. You can easily trust them with your gadget's safety.
We don't like that:
You can't test a Pro version before buying it. It is not very user-friendly. How can users be sure that a Pro version of your product is worth paying extra for it?
There is 1 license for 6 devices only. What if your user has more devices and needs to protect data on all of them? Should he immediately buy the Pro version or another license?
Browsers restriction. You can set up BlackVPN only in Firefox and Google Chrome.
Dark interface. Give your users more options!
Despite all its good features, BlackVPN does not protect your device from rootkits.
Best for:
Those who like to save. Get 80% off the deal if you buy one of the one-year packages.
Those who have many devices and different operating systems.
Those who like their interfaces to be simple in use.
Highlights of BlackVPN
It has a kill switch. If your VPN breaks down, you'll still stay secure. Your apps will quit, your Internet will lose connection, so your data will not leak out.
The company constantly fights for Internet freedom, so it gives out 10% of its profit to the foundations that protect digital rights.
BlackVPN protects financial privacy.
Features of BlackVPN
No logs! Your data isn't recorded by BlackVPN. The provider will not expose your real IP address.
You cannot connect to different types of networks at the same time when you use BlackVPN.
The Domain Name System isn't stored, so it is absolutely safe to use the Internet and not worry that your search history or other information will be exposed.
You are free to pick different protocols.
You can use torrents.
Reliability & Security
You may have noticed that the market offers a variety of VPN options: NordVPN, CyberGhost, Surfshark, ExpressVPN, etc. BlackVPN is one of them. Clearly, they all have strengths and weaknesses. But what makes BlackVPN stand out of this list and what makes its users extend their subscriptions? The main reason is the approach that the company has chosen towards its clients and privacy in general. BlackVPN prioritized its users' security and gained their trust. At the end of the day, this is what VPNs are for, right?
Test results
Using VPN shouldn't affect your device's speed as the main goal of VPN is to protect your information, not irritate you with the slow data processing. Let's have a look at BlackVPN speed testing results.
As we may see from the info below, the download speed on Windows with BlackVPN on is performed better than the one on Mac.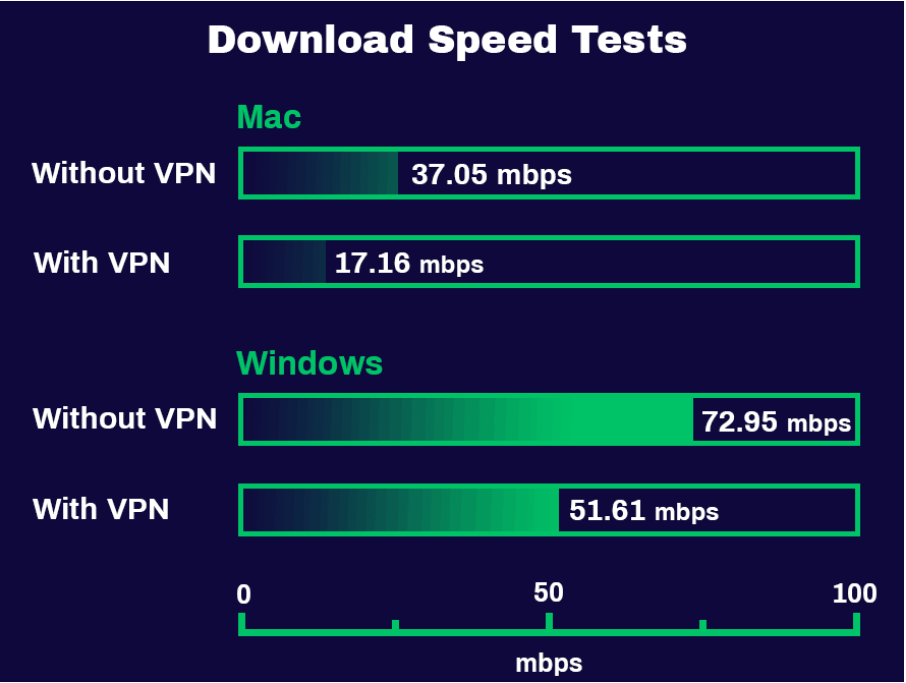 The situation with the upload speed is almost the same.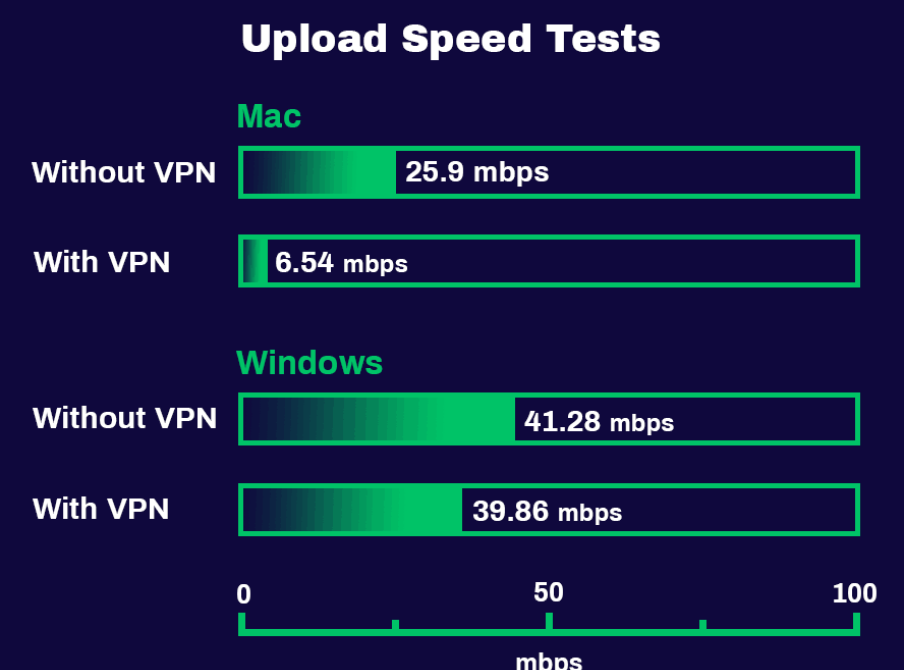 But if you test the reaction speed (the ping speed) of your device with the BlackVPN on – it will be better performed on Mac.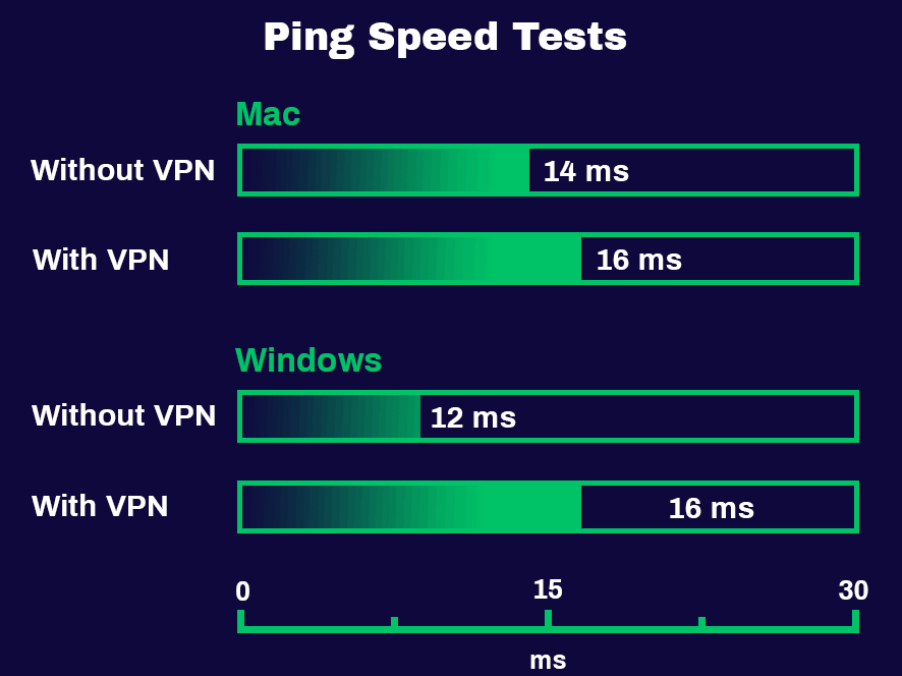 What is the Cost of BlackVPN: Pricing Packages and Discounts
BlackVPN provides several subscription packages. You may choose one of the following:  Global, TV, Privacy packages, UK, and US packages. For example, you will pay $11.26 for a month, $32.00 for three months, and $117.37 for one year for the Global package.
These rates are quite expensive on the VPN market. If you compare BlackVPN with some other services, you will see the difference. For instance, SurfShark is considered to be a low-cost VPN provider, but its features are not worse than the ones that BlackVPN has. Though you will pay only 2.26$ for a 1-month subscription to this VPN service.
What is the subscription model here? You will need to choose your plan depending on the characteristics you'd like to get and what server you prefer.
If you decide to stop using the BlackVPN services for any reason, you can get a refund up to 14 days after the purchase is made. If you request a refund later than in the defined period of time, the provider won't issue a refund.
Support and Customer Service
BlackVPN's customer support is very decent. Your questions and any possible conflict situations are resolved in a timely manner. There is a variety of channels that you can use to get help:
Email. You can always address all the concerns using this method of communication.
"Support ticket". Here you may get answers regarding installation, account issues, connection, etc.
"Contact form". You can fill it out with your doubts about sales.
FAQ section on the main website. Here you can find troubleshooting articles, installation guides, and many more useful tips.
How to Install BlackVPN on Mac OS and Windows?
The BlackVPN's setup process will take you only a couple of minutes!
This is how you can get it for your Mac OS:
Got to the "System Preferences".
Click the "Network" icon.
Click the "+" icon to add a new connection.
Select "VPN" from the "interface" dropdown menu.
Choose "Cisco IPSec" and add the "BlackVPN" name to the "Service Name" section. Click on the "create" button.
Enter the server address, your username, password, and you are all set!
These are the tips on how to get it installed on your Windows:
Click the "Start" button and choose the "Settings" option from the menu.
Choose the "Network & Internet" option and select "VPN" from the list of connection options.
Add a "VPN connection" and choose "Windows" VPN-provider.
Fill out the "Server Name and Address" section, select your username and password.
Get back to your "Internet" main page and connect to the needed VPN.
Final Verdict
BlackVPN used to be one of the best VPN services on the market. But recently its performance downgraded. The clients are not completely satisfied with its features. Some people still use BlackVPN. Though many other users now choose other VPN providers as they offer a wider range of services, features, and are more beneficial. BlackVPN does not allow to connect to some streaming websites in several regions. That's why users in these areas quit using this VPN service. To sum up, BlackVPN still has room to improve, and hopefully, we will see this improvement in the nearest future.
Frequently Asked Questions
Can BlackVPN be used as a stand-alone app?
BlackVPN comes with the best security features and privacy offering excellent support. It does not come with a native application for Windows desktop, but a custom version is available with OpenVPN, which is very convenient to use.
What is the BlackVPNs fastest server?
BlackVPN speed in most of the countries is amazingly fast as compared to others. It has 31 VPN servers. Data centers are secured physically, with all the servers running on bare-metal paraphernalia. It performs very well in case of upload speed, download speed as well as latency.
Does it work with UDP applications and games?
Yes, it works fine with UDP applications as well as games. While UDP is responsible for sending the data packets, TCP ensures that all these packets reach in order. Since most applications run over TCP or UDP, hence they work well with BlackVPN.
What about bypassing Netflix restrictions with BlackVPN?
BlackVPN was used with an open-source client named OpenVPN to connect after logging in. The US East and US Central Servers can bypass Netflix, and they do so instantly. All the content can be streamed in good HD quality with almost nil buffering.
Does it keep logs?
BlackVPN stands out in terms of log keeping. Although many other VPN providers might keep some user logs, you can be sure that BlackVPN does not keep any connection logs, DNS logs, and traffic logs.
Can you use BlackVPN for free?
Yes, BlackVPN offers a free trial period of three days, for which it can be used free of cost. There is also no need to provide any payment information. In case one opts out of the premium plan within the first fourteen days, there is a provision of guaranteed money back.
BlackVPN support – is it helpful?
The customer support team at BlackVPN has a very good knowledge base and responds very quickly to any queries and complaints. The customers can also lodge complaints using Support Tickets and E-Mail services. The chat support is available 24/7.
What is the full company name of BlackVPN?
The full name of BlackVPN Company is BlackVPN limited, which has been registered in Hong Kong. It was founded in 2009.
What is BlackVPN's price?
BlackVPN prices are quite rational. There is no option for a monthly subscription; the user must purchase a minimum of one year of subscription. The cost ranges from 56 dollars a year to 113 dollars a year. In this way, the average cost becomes a minimum of 4 dollars a month to a maximum of ten dollars a month.
What company owns BlackVPN?
BlackVPN Company is owned by BlackVPN private limited.
Do all BlackVPN features work correctly?
A host of features backs BlackVPN. They include its compatibility on various operating systems, more than 7 connections at a time, no logs, free trial, absolute secrecy, etc.
All these features work. All these are the basic features offered by VPN companies that should be working fine, and in the case of BlackVPN, we find it to be true.
Does the BlackVPN accept anonymous payment methods?
Yes, BlackVPN does accept all anonymous payment methods in addition to conventional methods of payment. The most common methods are PayPal, Bank Transfer, Credit Cards, E-Wallets, and Gift Cards. If we talk about anonymous payment methods, then we can do that using Bitcoin. Additionally, 40 cryptocurrencies can also be used for making payments.
Can BlackVPN win the competition when it comes to speed?
Yes, the speed offered by BlackVPN is extremely competitive. The important points to check here are the download speeds, upload speeds, and latency. Upload speed and download speed are mainly related to day-to-day browsing. Latency comes into the picture while using gaming applications. Great upload and download speeds are observed while using Windows OS. The same is the case when checking for latency. The speed offered is more than 100 Mbps.
Is it good for data protection?
Yes, BlackVPN can be considered one of the best VPNs for data protection and security. Since it is situated in Hong Kong, it is away from the 14 eyes and 5 eyes countries. The no data retention policy of Hong Kong also adds to data protection whereby customers can be sure that the owners have the least data knowledge of their customers.
Does it support P2P/File sharing?
Yes, BlackVPN supports P2P and file sharing. To opt for the same, we need to purchase the plan accordingly.
The unrestricted P2P can be available and some other benefits of streaming by having access to the Global package. This also helps in avoiding any sort of copyright alerts.
Can BlackVPN unblock streaming platforms?
Yes, BlackVPN can be very effective in unblocking major platforms such as Netflix, Torrent, BBC iPlayer, and Disney+. Netflix US access speed is also amazing, with little or no buffer.
Can you use it on all your devices?
Yes, BlackVPN can be used on seven devices at once. The customer just needs to have a single VPN account, and he is free to connect the devices simultaneously. This also adds to the overall security.
Is BlackVPN Legal and safe to use?
BlackVPN is safe to use. Since there is no retention of logs, all the traffic gets encrypted with the replacement of the IP address. This helps the customer to feel safe and secure even while using Public Wi-Fi. The exact location of the user and IP address are hidden and unique. This helps to prevent the user from random strangers viewing their activity on the internet.
How many servers/countries BlackVPN has?
BlackVPN has its servers in 18 countries. 31 servers are spread around 20 VPN locations.
Is BlackVPN based in a safe jurisdiction?
Yes, BlackVPN stands out in terms of safe jurisdiction. They are based in Hong Kong, which is away from the 14 eyes and 5 eyes countries. Hence it is very safe to use without the users' data being given to other countries.